A Dairy Queen in a Wisconsin town triggered outrage recently.
The sign reads, "This restaurant is politically incorrect" before noting that staff members say, "Happy Easter," "Merry Christmas," and "God Bless America," WDJT-TV reported.
The franchise owner, Kevin Scheunemann, says his restaurant salutes the U.S. flag, gives thanks to the troops, and offers free sundaes to veterans on Veterans Day.
A "politically incorrect" sign hanging in a Wisconsin Dairy Queen by the franchise's owner has sparked controversy under the Grill and Chill's neon lights.

NBC Chicago စာစုတင်ရာတွင် အသုံးပြုမှု ၂၀၁၇၊ စက်တင်ဘာ ၁၂၊ အင်္ဂါနေ့
"I felt the sign was appropriate to hang in terms of being transparent about the views of the owner and staff," he said, adding that "those kinds of values and principles are becoming controversial in society."
Scheunemann said that he starting hanging the sign up in front of the restaurant four years ago after a customer complained about the music in the shop. After posting the sign, he said he hasn't experienced other problems.
A person from Oregon posted a photo of the sign, which says "In God we trust," at the bottom.
Some people complained and commented to Dairy Queen's corporate headquarters, posting comments on its social media pages.
"Corporate. Please do not make a statement that goes against Freedom of Speech and Religion. The 1st Amendment is what makes this country great," wrote one Facebook user in support of the sign.
Some locals agree with his decision.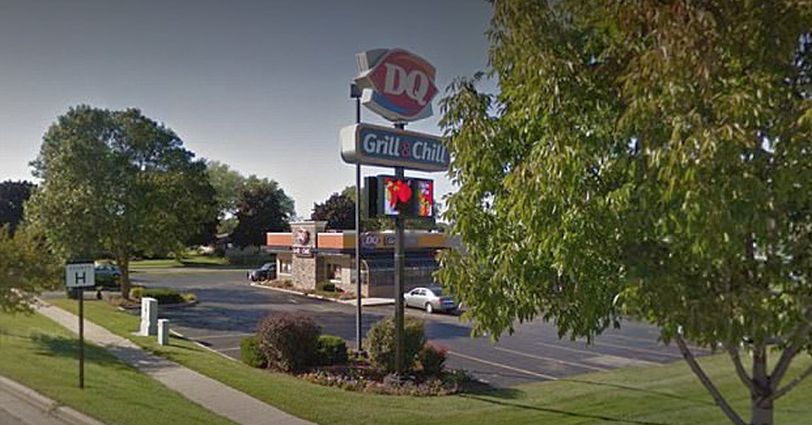 "He posted it on the door so you see it before you walk in," said April Serwe, who owns a nearby bar, OpposingViews reported. "You don't have to walk in if you don't agree with it." "In this small community, I don't think it's a problem," added local resident Liz Torrison. "We're all just liking each other and having fun."
Related Coverage
The company, according to a Dairy Queen spokesperson, "does not encourage our independently owned and operated franchisees to post non-business related messages in their locations or on their external reader boards. The sign expresses the views of this independent owner only and does not speak for ADQ [American Dairy Queen] Corporation or any of our other independent franchise owners. We expect our franchisees and employees to treat every person who walks through our doors with the utmost dignity and respect. Nothing less is acceptable," Fox News also reported.
Scheunemann said that it's been good for his business' bottom line.
POLITICALLY INCORRECT: A sign on the door of a Kewaskum Dairy Queen, calling the restaurant 'politically incorrect' is generating business and conversation.

CBS 58 စာစုတင်ရာတွင် အသုံးပြုမှု ၂၀၁၇၊ စက်တင်ဘာ ၈၊ သောကြာနေ့
"I got people driving hours to take a picture with (the) sign," Scheunemann told the local GoMN website.
Other details about are not clear.
'Controversial' Signs Removed
In New York state, crews had to remove "I Love NY" highway signs as part of the state's deal with highway regulators to avoid $14 million in penalties.
Gov. Andrew Cuomo said officials removed about 400 of the roughly 500 "I Love NY" signs around the state's major roadways after a five-year impasse with the federal government, the Democrat & Chronicle paper reported in 2014.
"These signs will be repurposed at various service areas, welcome centers and state-owned facilities as appropriate to inform travelers of programs that support New York's $100 billion annual tourism industry," the DOT said.
The state added it will "modifying the remaining signs to include economic development regions of the state to facilitate areas of interest off the federal interstate highway system."