A new fire, named the Sierra Fire, burned more than 140 acres by the morning of Nov. 14, after erupting overnight, according to reports.
Video footage, as seen at the top of the article, shows the wildfire just outside of the town of Rialto as thick smoke inundates the streets. Rialto is located just to the east of Los Angeles.
By Wednesday morning, the fire was at 75 percent containment, according to the San Bernardino County Fire Department.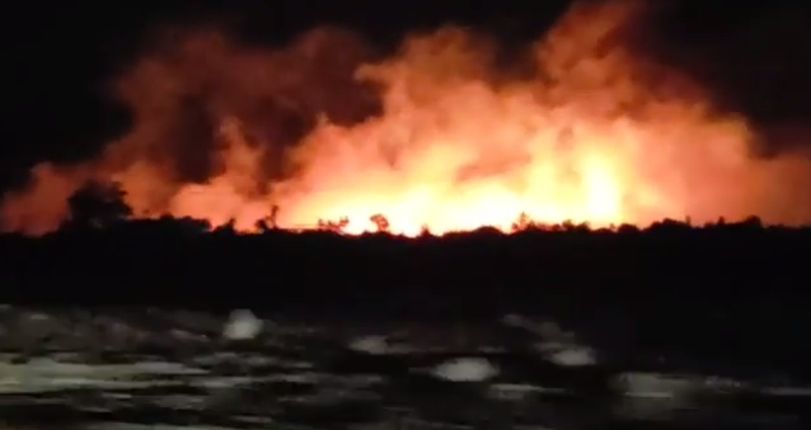 "Fire is holding at 147 acres with 75% containment. Structure threat mitigated. Fresh units coming to the line this morning. Riverside Ave remains closed between SierraAve and LocustAve. Firefighters will cont to monitor neighborhoods and ensure line integrity," officials wrote on Twitter.
Firefighters have not ordered any evacuations, NBC News reported. Fire officials told KTLA that overnight, the fire grew to cover 20 acres in just 15 minutes.
"We're hoping for full containment today," San Bernardino County Fire Department spokesman Eric Sherwin told the Desert Sun. "We'll continue tactical patrols today to make sure no embers cross the fire line."
The fire was, in part, fueled by heavy Santa Ana winds. The National Weather Service said that on Nov. 13, wind speeds reached 56 mph.
The fire is about 90 miles east of the Woolsey Fire, which has left at least two people dead, and the Hill Fire. It's also located hundreds of miles south of the Camp Fire, which has ravaged Butte County in Northern California, essentially destroying the small city of Paradise. In that fire, 48 people have been confirmed dead and many more are missing.