Sichuan Villagers Riot Over Quake Relief Funds
February 24, 2009 7:42 pm Last Updated: October 1, 2015 10:09 pm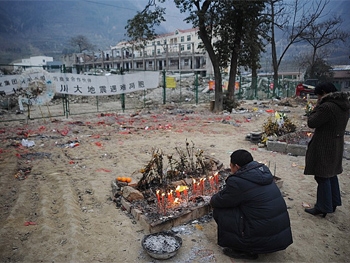 One villager died and about ten were injured in a riot in the quake-hit city of Mianyang, southwest China's Sichuan Province, when hundreds of rural residents clashed with police during a protest over the alleged misuse of earthquake relief funds.
According to a report on February 20 by the Hong Kong-based Information Center for Human Rights and Democracy, the riot took place in Baolin Township, An County of Mianyang last Wednesday, after the local authorities decided to deduct 2,000 yuan (US$292) from the disaster relief fund designated to each family, to use for road construction.
On February 18 many villagers blocked the main road to protest over the quake relief subsidies, and demanded the township authorities to pay them 2,000 yuan of subsidies that the Mianyang municipal authorities had promised.
The report said the township sent police to disperse the crowd. Three villagers were taken away, one of who died while in detention. The news of this person's death triggered a large riot.
In the afternoon, about 2,000 villagers surrounded the township police station, and destroyed police vehicles. The local authorities sent about 1,000 armed policemen to quell the dispute. About ten villagers were injured in clashes, and two of them were sent to hospital.
According to villagers, although quite a bit of money had been collected from nationwide donations as well as from overseas, all earthquake victims in Baolin had only received about 3,000 yuan ($439) per family, far from enough to repair their broken homes. In addition, banks only gave out loans of no more than 5,000 yuan ($731) unless the house was completely demolished and needed rebuilding. Therefore, most of the quake victims' homes were left without repair.
The report said the central authorities have allocated 128.7 billion yuan ($18.82 billion) of relief to millions of quake victims, who also received 64 billion yuan ($9.36 billion) in quake relief funds and materials from donation.
However the National Audit Office's report show that nearly 1.4 billion yuan ($205 million) worth of disaster relief funds have been embezzled. By the end of last November, the Office had received 1,962 reports of the misuse of relief funds, 176 of which are under investigation.