Sichuan Police Suppress Villagers
July 10, 2006 12:00 am Last Updated: July 10, 2006 12:00 am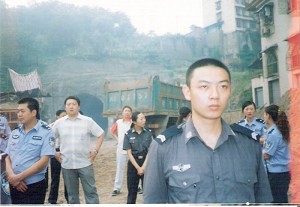 On June 30, government officials from Zigong city, Sichuan province sent approximately 200 fully armed riot policemen to suppress farmers from Baiguo village who were protecting their land. Many villagers were injured and the farmers who lost their land were arrested.
Farmers Chen Shouxian, Hu Shuming (disabled) and Zeng Pan (pregnant) have since been released and six are still detained in Daan Detention Centre. A representative for the detained farmers warned the villagers: "Don't bail us out. We have not committed any crimes. It is the government who has arrested us and detained us who has committed a crime."
Sources said that under the pretext of building the Zigong Hi-tech Industrial Development Zone, the Zigong city government forcefully took over land owned by farmers from Red Flag village and is suspected of embezzling profits as high as USD 6.25 billion. Consequently, 30,000 farmers have lost their homes, land and livelihood and have not yet received any compensation from the government.
Farmers from Baiguo village who lost their land repeatedly asked the government to compensate them for their loss, but the local authorities ignored their requests. On June 23, these farmers divided themselves into four groups and took turns to guard their seized land 24 hours a day. They also asked to speak to government officials, but the local authorities still ignored their requests.
On June 28, the local authorities sent approximately 100 policemen and local officers to the area, formed a security line and forcefully drove away the farmers who were guarding their land. Village representative Huang Shuming was brutally beaten by the police for taking photos of the suppression. He was injured all over his body and his camera was broken. Huang is currently being treated at the Fourth People's hospital in Zigong city. Because he had no money to pay for treatment, the hospital stopped giving him medication and asked to leave the hospital. Local authorities also refused to pay his medical bills.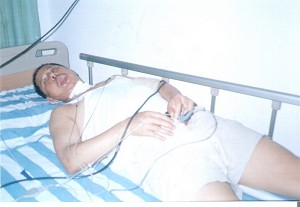 Two days later, on June 30, the local authorities sent more than 200 riot police back to the area to arrest the representative of the farmers. During the arrest, 70-year-old Zou Qiwan was beaten unconscious by the police and was sent to the hospital for emergency treatment.
Farmers Chen Shoulin and Huang Guangzong were also brutally beaten up. Witnesses say the police told them: "You deserve to be beaten to death. If you are beaten to death, we will say that you died from illness."
Chen Shoulin has been detained for 10 days by the local authorities as punishment. This is the second time he has been detained for defending his land.
Local authorities have reportedly agreed to release the detained farmers as long as they admit their mistake, promise not to obstruct the development project and do not ask the government for compensation.
Since July 1, over 100 villagers have voluntarily visited the detained village representative at Daan Detention Centre. One villager said: "The detained farmers have been beaten up in the detention centre as well. Four of them have serious injuries. We asked if they could be treated for their injuries but the detention centre ignored our requests. Female villager Zeng Zhengying is crying because she is in so much pain from the injuries that she cannot sleep."
Sources said that the police threatened them: "If the farmers refuse to admit guilty, they will be injected with the AIDS virus."
The villagers re-elected five representatives at a July 3 meeting at Baiguo village so that they could continue to protect their land. One of the elected representatives, He Ping, was immediately threatened by the authorities and told that he should persuade the villagers to back down and accept a compensation payment of USD125 each. The offer was immediately rejected by the villagers.
The photos below were provided by the local villagers.