A crew of Russian fishermen managed a monstrous catch Saturday, Sept. 9—a 2,400-pound ocean sunfish.
A rare find in the Kuril Islands, locals couldn't recall ever seeing a bigger one. But with a fish so special, wouldn't it be better to release it back into the water? The idea came up. And an argument ensued. And continued for more than a day. Meanwhile, the fish died.
The fishermen then brought the carcass to a port on Iturup Island and left it there for days, until it started to rot, The Siberian Times reported.
Scientists from Sakhalin History Museum tried to obtain the fish, but were too late. Port officials decided to feed it to bears.
There's a place dubbed "fish safari" on the island where people give fish to local brown bears during lean seasons when the bears have trouble finding food.
Losing the specimen to bears upset the scientists. At least they negotiated with the fishermen to cooperate better in the future.
Ocean sunfish (also called mola mola) are the heaviest known bony fish. They live in tropical and moderate waters and can weigh well over a ton. They feed on jellyfish and can startle boaters with their size. But they are docile to humans.
In 1910, a giant sunfish with an estimated weight of  3,500 pounds was caught at Santa Catalina Island in California.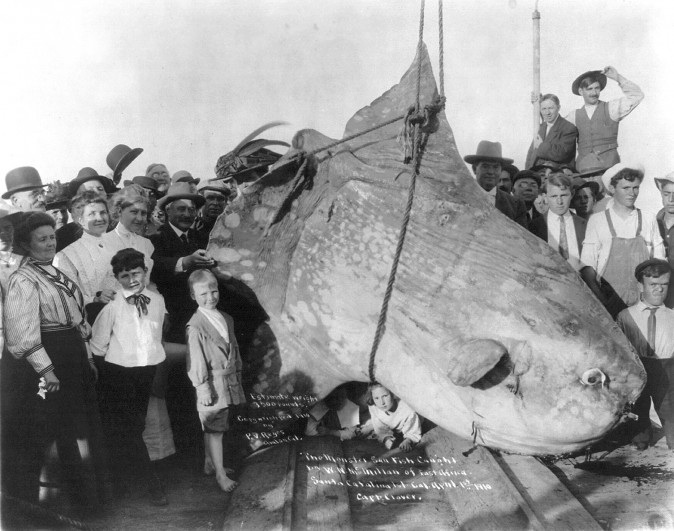 The name of the fish comes from its habit of sunbathing near the water surface.
The Siberian Times report called the one caught last week a moon-fish, but that could have been a translation error. In Russian, the fish is called луна́-ры́ба which, literally translated, means moon-fish. But in English, moonfish is a different species otherwise called opah.