CUCUTA, Colombia—Armed groups warring for control of Colombia's busiest border crossing with Venezuela opened fire on one another on May 3, leaving a woman hospitalized and hundreds fearing for their lives.
The woman caught in the crossfire wasn't affiliated with the two rival gangs, officials from Colombia's migration authority said.
Members of the Colombian military and police forces told The Epoch Times that paramilitaries loyal to Venezuelan regime leader Nicolás Maduro, known as colectivos, were involved in the shootouts, although this wasn't confirmed by Colombian migration officials.
The illegal pedestrian bridges connecting the two countries are dangerous but increasingly popular, due to Venezuelan border restrictions recently becoming more stringent for the 25,000 who are estimated to make the trip into Colombia each day.

Between 3,000 and 5,000 Venezuelans now take illegal routes run by armed groups into Colombia each day, fleeing their crisis-stricken country or seeking basic goods either unavailable or unaffordable in Venezuela, according to Colombian officials.
On May 3, hundreds queuing at Simón Bolívar bridge in Cúcuta, to re-enter Venezuela ducked for cover and screamed as automatic gunfire was rapidly exchanged in the illegal crossings below, video footage showed. The skirmishes lasted more than half an hour, according to eyewitnesses.
"This was not just a few bullets, these were heavy machine gun bursts," said Jerso Montoya, who was returning to Venezuela via the "trocha" after taking his daughter to school in neighboring Colombia when the groups clashed. "We haven't seen this in years, how can they do that with so many people around?"
Some 1,500 children now travel to Colombia each day to study as their own education system has collapsed. Many of those take the illegal crossings to save time, or for fear of not being permitted entry by the Venezuelan National Guard, who have clamped down on migration flows since the Venezuelan opposition's Feb. 23 attempt to push humanitarian aid into Venezuela against Maduro's orders.
Following the incident, queues of frustrated families snaked back down the bridge as migration officials limited migration flows, and many who usually take the illegal dirt tracks decided to take the bridge's official migration route out of fear.
"You can run, but what about the children?" said Maryluz, who was waiting with her son and daughter under the beating sun.
Armed Groups Strengthen
The Colombian–Venezuelan border is a hotspot for drug-trafficking, contraband, and extortion, and thus a hotbed for conflict between armed gangs, including Colombian paramilitary groups such as the Gulf Clan, and guerrillas such as the National Liberation Army.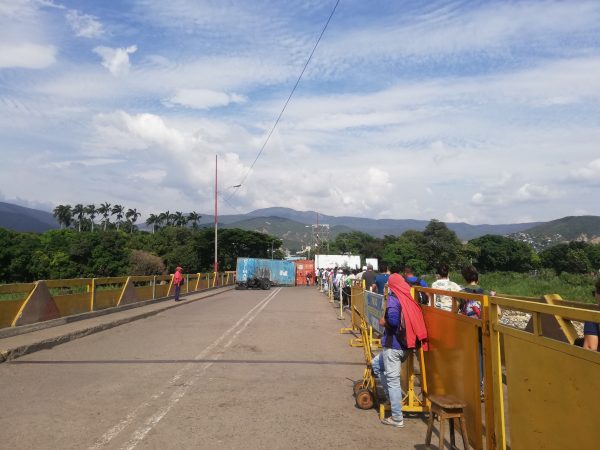 Colombia's director for migration, Christian Kruger, made an impromptu visit to the bridge following the shootout. He admitted that policing over 2,200 kilometers (1367 miles) of porous border was impossible, but said that such incidents are increasingly common since Venezuela began suffering its economic, social, and political collapse.
"It has nothing to do with the efforts to control the crossings … this owes to the corruption and disorder in that country (Venezuela)," the official said, adding that this was the fourteenth incident of gunfire in the illegal crossings recorded this year.
Kruger said it was too early to identify the "criminal groups" responsible, but a number of Colombian police and military members alleged that colectivos, dressed in all black and masked in balaclavas were involved. Colectivos are backed by the Maduro regime and granted impunity and funding while they pledge allegiance to the socialist revolution and to violently quash growing opposition-led protests which have rocked Venezuela.
Members of Venezuela's National Guard controlling the border blamed the incident on guerrillas and paramilitaries.
A high-ranking military official told The Epoch Times on condition of anonymity that the National Guard couldn't admit any involvement of pro-Maduro groups as those very groups had infiltrated the National Guard and were surveilling them.
As security conditions continue to decline and illegal crossings become more lucrative, it is hard to pinpoint who is responsible for violence at the border, security analysts say. There is also a tendency for local gangs to regularly switch allegiances to national organizations without any real significant change on the ground.
The area is "up for grabs and there may be Venezuelan and other smaller Colombian gangs popping up all the time," said Adam Isaacson, director at the Washington Office on Latin America.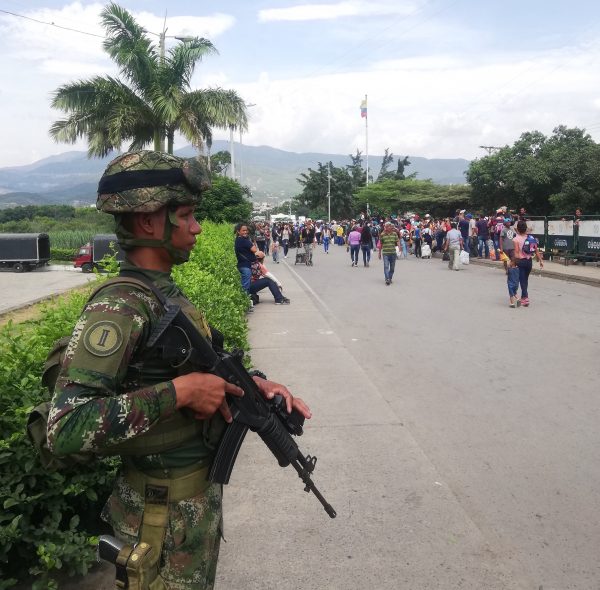 A historic peace agreement signed in 2016 between the Colombian government and the country's largest guerrilla-insurgency, known as the FARC, was supposed to usher in a new chapter of peace in the country. But homicide and displacement are currently growing in remote areas of Colombia.
Along with the difficulty in implementing the peace accord, the continuous operation of the guerrillas is also blamed on the rapid deterioration of neighboring Venezuela, which has become a safe haven for the rebels who exploit illicit economies in tandem with Maduro's military.