Florida police said a shooting outside a pizza restaurant in an Orlando suburb on Saturday, Nov. 24, has claimed the lives of two men and left two others injured.
The Orange County Sheriff's Office said in a news release cited by Fox News that the shooting happened outside a Papa John's southwest of Orlando at approximately 8:05 p.m. local time.
Police said that the body of one of the victims was discovered beside a vehicle behind the restaurant. The man had been shot "several times."
Another man suffering from gunshot wounds stumbled into the Papa John's pizzeria and asked for help. He was subsequently transported to the hospital, WKMG reported, where he died from his injuries.
Deputies found two other men with "serious injuries." The victims were taken to a nearby hospital, with one of the men reportedly undergoing surgery. No further information about their conditions has been released.
A vehicle was spotted fleeing the scene of the shooting, and police set out in pursuit. The car, a silver Hyundai Elantra, was reportedly involved in a crash, before continuing to flee.
Officials from the Orange County Sheriff's Office said that the 21-year-old driver of the vehicle was eventually stopped and arrested. According to WKMG, the man faces charges of evading the police. Officials had indicated the man could be connected to the shooting.
More details were expected to be released by Orange County Sheriff's Office officials on Sunday morning.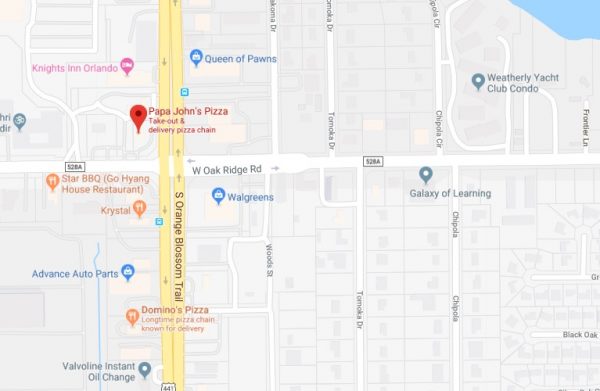 The shooting took place in the area of West Oak Ridge Road and South Orange Blossom Trail in Oak Ridge, Fla., a suburb southwest of Orlando.
The crash occurred at the intersection of Sand Lake Road and Orange Avenue, according to WKMG.
It is unknown what led up to the shooting.
Police continue to investigate.