Three Judges Die in Gunshot Incident in Southeastern China
June 2, 2010 12:24 am Last Updated: October 1, 2015 7:59 pm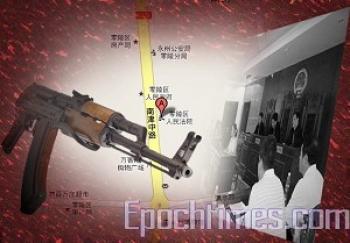 |Video Courtesy of NTDTV |

Based on a Xinhua News report, a suspect fired gunshots during a trial in the Lingling District Court in Hunan Province at around 10 a.m. on June 1. The incident resulted in four dead and three injured. The suspect killed himself at the scene, according to the local authority.
The four who died included Presiding Judge Zhao Hulin, Deputy Presiding Judge Jiang Qidong, Court Clerk Huang Lan, and the suspect, who shot himself in the mouth. The injured included Tan Bin, the presiding judge of another court, and Wu Xiaohui, a court officer.
Attorney Wang who runs a law firm in the city of Yongzhou confirmed the shooting. "It's a big thing here, of course. The suspect shot the judges in the court house. I personally knew the judges." Another lawyer in the same city also confirmed the incident.
The Epoch Times reporter called the Lingling Public Security Bureau in Yongzhou where the woman officer said that she did not know the details. "The higher ranking officers are handling everything."
The Sanxiang City Express reported a different story, saying that a man wearing a baseball cap with a black travel bag ran into judge Zhao's office that morning. The man shot judge Zhao and judge Jiang with a shot gun. After he ran out of bullets, he took out a pistol from his bag and continued shooting.
He later took out a submachine gun and started shooting at the officers and staff who went over after hearing the gunshots. Huang, Tan, and Wu were then shot.
The suspect, Zhu Jun, 46, was a security officer at the Lingling District Post Office. He was divorced three years ago and has left a son and his parents behind. On the morning of the shooting he went to the post office at 7:30 a.m. and checked out one submachine gun and two pistols with the excuse that he needed to examine the guns.
Read the original Chinese article.