UPDATE: At least three people have died in the shooting, according to CBS. New Mexico police report that the shooter is among the deceased.
Updated information: 1 suspect shooter is deceased. 2 students are deceased. No other injuries reported. The school has been evacuated. #Aztecschoolshooting

— NMSP (@NMStatePolice) December 7, 2017
A shooting was reported at Aztec High School in Aztec, New Mexico, leaving several people injured, according to reports.
A gunman opened fire at the northern New Mexico school Thursday morning, Dec. 7, law enforcement said, Fox News reported.
Families and friends of students of Aztec High School are gathered outside city hall, following a shooting at the school@KOB4 pic.twitter.com/7kjG7ZNITV

— Meg Hilling (@meghilling) December 7, 2017
"There are at least a dozen reported injuries at this time," a spokesperson for the sheriff's department told Fox.
My cousins daughter goes to Aztec High School. This is part of a text between her and her mom this morning, can you imagine your child going thru that? ? #schoolshooting #prayforaztec pic.twitter.com/hwy6C5oKCB

— Tara Borisow (@borisowt) December 7, 2017
The San Juan County Sheriff's Office confirmed reports of an active shooter at around 9 a.m. local time. They said the Aztec High School was put on lockdown. "Aztec High School is locked down and being evacuated. Please avoid the area. Parents can stage at 516 and Mesa Verde near the church to pick up their kids. We will update this as we learn more," the San Juan Sheriff's Office said in a statement.
The school is located near Navajo Nation and is located about 180 miles north of Albuquerque.
Aztec High School in Northern #NewMexico The shooter is in custody, it is not known how many people have been wounded pic.twitter.com/9TDuvNZCzc

— srb news (@srbnews0) December 7, 2017
Farmington Municipal Schools said in a statement that all schools in the district went on a lockdown due to the incident.
"We have no reason to think there is any threat in Farmington at this time, but we are taking this advance action in order to secure all of our schools. Your students safety is our primary concern," the statement read.
Bloomfield police said local schools were also lockdown as a preventative measure, officials said.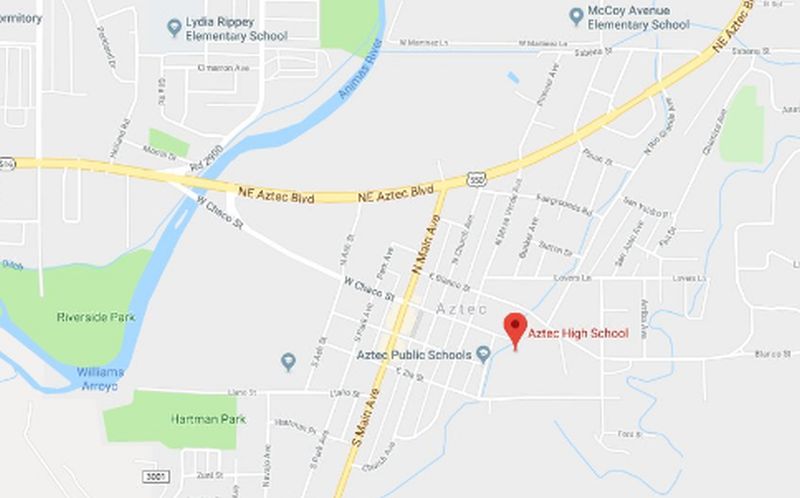 Two people shot at New Mexico high school, Aztec Police Department says; police say the suspected shooter is "down." https://t.co/6nZ94VMoON

— ABC News (@ABC) December 7, 2017
And while you're here …
 We have a small favor to ask of you. If you can, please share this article on Facebook so you can help The Epoch Times. It takes less than a minute. Thank you very much!