The slowdown in the Chinese economy has dealt a major blow to the shipping sector. The Baltic Dry Index (BDI), which tracks the freight rates of ships that carry bulk cargoes like iron ore and coal, tanked in November to 498, the lowest since 1985.
"Falling demand and oversupply has severely impacted commodity values, with iron ore and coal prices in virtual free fall. The dry bulk shipping sector has been a casualty of these developments with resultant impacts on vessel earnings," said Drewry, a London-based shipping consultancy firm in its research report.
The index has more than halved compared to last year, and has fallen 96 percent since its peak of 11,793 in May 2008.
China's increased demand for raw materials led to a shipping boom over the last decade. Entranced by China's bubbling economy, shipping companies started to invest in mega-ships, leaving the sector with huge debt and overcapacity.
Now, with Chinese imports stalling, the shipping industry is heading toward a deep recession, according to experts.
Shipping … created its own crisis by over-investing far too early in additional capacity and mega-ships.
"The dry bulk shipping market will remain in recession due to contracting demand for iron ore and coal, and any recovery is not expected until 2017," said Drewry.
Another index, the Harpex, has accompanied the BDI and also collapsed to its lowest levels in years. Harpex tracks the freight of container ships and represents a much wider base of commercial goods.
"Shipping, especially container shipping, has created its own crisis by over-investing far too early in additional capacity and mega-ships for which there is no real demand in the foreseeable future," said Uwe Breitling, a port, transport, and training consultant in the maritime industry.
An additional 1.6 million teu (20-foot equivalent unit) of new capacity is being added to the global fleet in 2015, and a further 1.3 million teu in 2016.
"The container shipping industry is in the midst of an over-capacity crisis, which will worsen next year," warned Neil Dekker, director at Drewry.
Mega-Ship Frenzy

Rise in global trade volumes and the containerization (transportation of cargo in containers) in the last decade drove the need for greater economies of scale. Hence, many carriers ordered new mega-ships to remain competitive. 
"Larger container ships have generated cost savings for carriers, decreased maritime transport costs, and facilitated global trade in the past," said the Organization for Economic Cooperation and Development (OECD) in one of its reports.
However, these ships, longer than four soccer fields, bring problems to the whole transport chain, especially to ports. Larger ships require adaptations of infrastructure and equipment, and cause larger peaks in container traffic in ports, according to OECD.
"Carriers are crying for lack of investment in mega-ports by the public sector to accommodate their unwanted mega-ships so that they can shift the financial consequences of their mismanagement to the public," said Breitling.
Weaker Demand Fuels Bankruptcies
The meltdown in global commodities and freight rates have led to a series of bankruptcies in the industry.
Genco Shipping & Trading Ltd. and Eagle Bulk Shipping Inc. were among the 10 biggest bankruptcies in the United States in 2014.
Genco, owned by New York shipping tycoon Peter Georgiopoulos, was one of the largest dry bulk shippers in the world, with 53 vessels. And Eagle Bulk, based in New York, owned 45 vessels.
Experts predict more failures, if the freight rates continue to slump.
And most recently, private equity-backed Global Maritime Investments Cyprus Ltd. filed for Chapter 11 in the United States in September. Japanese bulk carrier Daiichi Chuo Kisen Kaisha also filed for bankruptcy protection in Japan the same month.
These recent bankruptcy filings were the latest in a series in the shipping industry. Experts predict more failures, if the freight rates continue to slump.
The Bigger the Better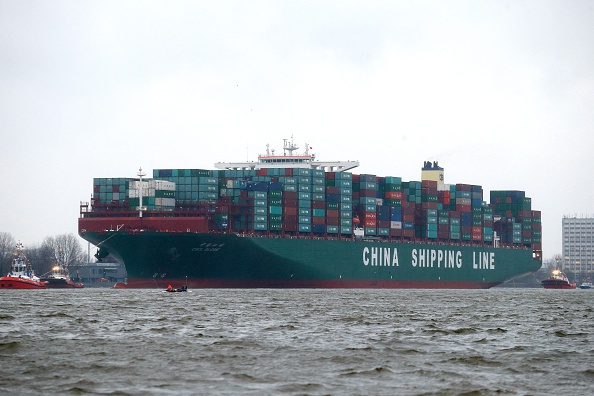 The recession in the shipping industry has sparked a consolidation trend, as well.
France's CMA-CGM Group recently entered into an exclusive talk to buy Singapore's Neptune Orient Lines (NOL). If the deal goes through, the merger will be one of the biggest shipping deals in years.
Analysts predict that the deal is a sign of further consolidation in the industry. Mergers are essential to gain power and market share.
The announcement came after China shipping giants Cosco Group and China Shipping Group were said to be in talks over a possible merger. In August, Beijing ordered the two state-run companies to come up with a roadmap to merge. Combining their fleets will give rise to the world's fourth-biggest container line.
"The container-shipping industry has been highly unprofitable over the past five years. Making things worse, earnings have been exceptionally volatile," said McKinsey Consulting in a report. 
Now that the industry faces its lowest freight rates in years, and with the additional capacity coming, the industry is set for prolonged overcapacity and soaring financial losses. In the battle for survival, more shipping companies are likely to consolidate.