David Talpes didn't think anything of it at the time. The Georgia man said he was just happy to be chatting with neighbors and meeting new people as he used his specialist all-terrain vehicle to tow cars up an icy hill all day.
However, many people in the County Hall neighborhood were touched—even more so after the story was boosted by social media.
The county sheriff's office posted pictures to its Facebook page on Wednesday, Jan. 17, asking for help identifying the man they said had been out there all day helping in the Flowery Branch neighborhood.
In the close-knit community, it didn't take long.
Talpes told Channel 2 that at first, he didn't have any idea he was being watched.
"Some lady came out and said, 'Can I take your picture?'" he said.
"Next thing I know, I'm all over social media."
Talpes said his all-terrain vehicle, with its massive wheels, isn't allowed to be driven on regular streets—except in emergencies.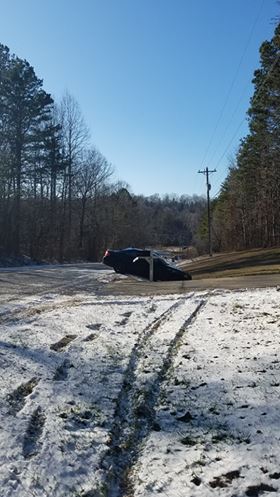 He thought the icy conditions in Hall County on Wednesday qualified as such an emergency. Fortunately for him, the local sheriff agreed.
"Big shout out to this citizen down on Union Circle in south Hall," the Hall County Sheriff's Office said on Facebook.
"Word is that he's been out there all day helping people who unwisely challenged the hill (gravity is a cruel mistress), using his own utility vehicle, fuel, and back muscles."
"It's folks like this that make the world a better place. Thank you!"
Talpes said he helped about 30 people, but is modest about his actions.
"It felt good but I didn't think anything of it. I loved it. I was able to talk to my neighbors and meet a bunch of people."
He said he only pulled one person out of a ditch. The majority of the people I helped were at the bottom of the hill and couldn't drive up."
Some people didn't want their cars towed, so he gave them a lift home instead.
Recommended Video:
Kayaker Rescues Iguana Swimming Miles From Shore