Two juveniles have been charged with throwing a rock through the windshield of a sheriff's SUV, which left the road and rolled over several times after the deputy lost control, thinking he had been shot in the face.
The Boyle County deputy had been called out to investigate reports of someone throwing rocks at trucks on Jan. 27 in the early morning. Half a mile out, a rock was launched from a passing vehicle, shattering the windshield and hitting him in the face with an estimated speed of 100 mph.
Deputy Phillip Dean is expected to make a full recovery, but the Boyle County Sheriff's Office said he could have been killed by the rock itself, or killed after he lost control and hit several trees before flipping over.
"He didn't see the rock being thrown; his windshield exploded and it hit him in the face," Sheriff Derek Robbins told the Advocate-Messenger. "I don't know if it knocked him unconscious, but it caused him to lose control and he flipped the vehicle multiple times."
On Sunday, January 27th, just before 5:00 A.M., a deputy was responding to reports that someone was throwing rocks at…
The two teenagers, who are nearly 18, have been charged with various crimes, according to the Messenger, including first-degree assault of a police officer, felony leaving the scene of a wreck and failing to render aid, and criminal mischief.
They may be charged as adults since they are close to being 18.
The rock was as heavy as a light-weight bowling ball.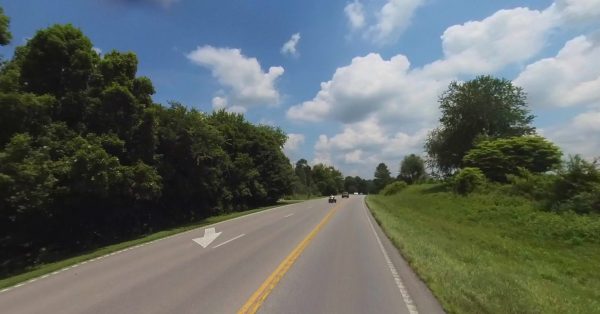 "That heavy a rock, a windshield is not going to—that was just a formality; it was just in the way," Robbins said. "The rock itself was big enough that if it had hit him in the right spot, it could have killed him."
According to the Messenger, Dean has a broken nose and multiple cuts and bruises.
Just a Prank?
"The entire Boyle County Sheriffs Office wishes to say thank you to everyone for their kind concerns and well wishes for Deputy Dean," said a statement. He is now at home and is recovering."
The Sheriff's Office released a picture of the wrecked patrol vehicle on its roof at the crash site near Lexington in central Kentucky on Lexington Road.
Two juveniles have been charged with throwing the rock into the windshield of Deputy Dean's vehicle. The entire…
Dean was traveling east on Lexington Road just before 5:00 a.m. when the rock—which deputies estimate weighed between 6 and 10 pounds—was thrown from a dark-colored westbound vehicle as they passed. The combined speed of the vehicles means the rock would have hit the windshield with a velocity of over 100 mph.
The deputy is tough, Robbins said, but the moment the rock came through the windshield it scared him. "His initial reaction was he thought he got shot because his windshield just exploded and he didn't know what happened. That's how traumatic it was. And then once he stopped rolling over, he said, 'My first thought was, "Hey wait a minute, I'm still alive.'"
"They are very close to being 18," Robbins said. "I don't know if they will be charged as adults. That will ultimately be up to the prosecution. I don't have any say in that."
Police said that they tracked down the two teenagers through patching together various videos of the incidents.
Prior to the arrest announcement, Robbins said he hoped it was just a prank that went too far. He didn't think the sheriff was "specifically targeted" for being law enforcement. He didn't have his lights activated or siren going at the time.
"I would really like for them to come in and say, 'Hey, I messed up, we've got to figure this out.' Because if we track them down before they come forward, we're going to prosecute them to the fullest extent of the law," he said.
In messages on social media, most members of the public think the two should be charged as adults.
"They had the privilege to drive a vehicle, which is an adult responsibility," wrote one person in a typical Facebook post. "They need to be charged as adults, and I hope they have the full weight of punishment fall on their shoulders."