A tragedy was averted thanks to the timely intervention of a Yavapai County Sheriff's Office volunteer who acted quickly after spotting a dog tied to a moving semi.
The Yavapai County Sheriff's Office (YCSO) said a member of its "Volunteers in Protection" (VIP) program was at a gas station in Ash Fork, Arizona, on Sept. 8, when he noticed a tractor-trailer pulling out with a dog attached to its bumper.
Dashcam footage shows the semi heading in the direction of an interstate highway.
The volunteer immediately switched on his lights, the YCSO said, and drove over towards the cab of the truck to alert the driver that his dog was trailing behind.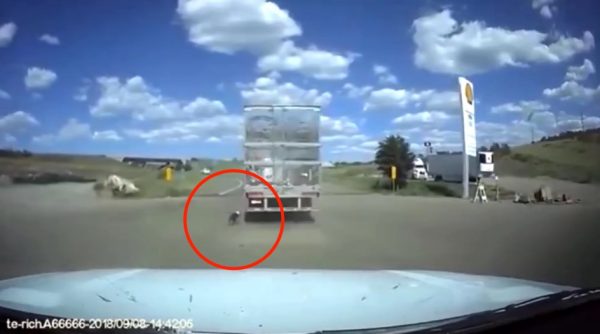 The agency said the semi driver was distracted and had forgotten to untie the dog's leash and take the animal into the cab with him.
"A very grateful owner retrieved his pet and expressed deep appreciation for the VIP's efforts," the YCSO said.
No charges are pending against the driver, according to the statement.
The Yavapai County Sheriff's Office said that it is unusual for VIP volunteers to deploy the patrol car lights, as their role is typically to "act only as eyes and ears when they are in the field." However, the YCSO command staff said it considered this use of lights and siren as justified since it was done "to save this dog from injury or death."
The YCSO states on its website that members of the Volunteer in Protection program are subject to strict suitability criteria, including psychological tests and a background check. These volunteers assist deputies in different aspects of their patrol, including traffic control, prisoner transport, or crime scene security.
"Thanks to the work these dedicated volunteers do day in and day out and for the actions of this VIP to save this dog," the YCSO said in the statement.
"They provide valuable support to the various Sections within the Sheriff's Office and have become an integral part of day-to-day operations," the YCSO stated on its website.