Shenyang's Business Strike Spreads to Other Cities in China
August 15, 2012 3:32 pm Last Updated: October 1, 2015 12:36 pm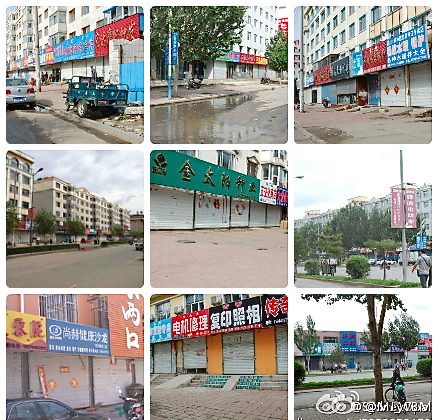 Early last week, under the guise of "health, safety, and anti-piracy inspections," the city of Shenyang in northeastern China started a fine-writing campaign that forced a mass businesses to shutdown. Since then, similar campaigns have spread to other northeastern cities including Shuangliao, and places in Shandong and Wuhan provinces.  
Fearing surprise inspections and fines, many businesses closed their doors. In one case a traveler nearly had her iPad confiscated by overzealous inspectors.
The campaign, viewed as simple extortion by locals, targeted everybody in Shenyang, from business owners to travelers, in an attempt to collect financial support to host the 12th National Games of China in 2013, according to Caixin, a financial magazine in China. Shenyang, the capital of Liaoning Province, is trying to raise cash to build 40 new venues, according to a Liaoning Daily report.
However, the methods that Shenyang employs have closed down 80 percent of the shops in Shuangliao, a business owner from the area told the New York-based New Tang Dynasty (NTD) Television, primarily a Chinese-language broadcaster. He said that officials claim to be fighting counterfeit goods, but those selling legitimate products are still fined.
"If something is said by the inspectors about not meeting the standards and all kinds of requirements, then they really fine you," the merchant said. According to Caixin, the inspectors exact harsh penalties for what appear to be trivial violations of sanitation and safety codes.
An owner of an auto-parts shop in Wuhan told The Epoch Times, "Today [Aug. 14], we opened for business. I saw that everyone had closed their businesses yesterday morning, so I also closed down. I heard that a shop was hit for 'counterfeit' goods a few days ago. It was hard to do business to begin with, but [we] still managed to eat."
One accusation of having counterfeit goods was directed at Liu Zesheng, the vice president of the human resources department in a Wuhan media company. She posted on Sina Weibo, a Chinese clone of Twitter: "I arrived in Shenyang this morning, couldn't find a taxi out of the airport, so I had to take the bus. During the bus ride, five people working for the anti-counterfeiting bureau got on to inspect the bus. They said my iPad was a counterfeit, so I showed them my sales receipt from the Apple Store in Tokyo, but they insisted that the receipt hadn't been notarized by the consulate, so it was invalid, and tried to confiscate my iPad. I argued strongly, but ended up paying them 1,000 yuan [$157]."
Another victim of the campaign was described by a netizen: "The old grandpa at the street stall selling tofu got fined 10,000 yuan [$1,570]: that's 10,000 pieces of tofu, how many months will he have to stand there to make up the losses?!"
The reason for these actions, was in the 2012 Shenyang City Budget Report: "Especially in hosting 12th National Games and constructing the Shenyang economic zone, we need a huge amount of financial support; the task of financial stability is very daunting, and the conflict between income and expense is very prominent."
The total cost of the National Games will reach 25.8 billion yuan ($4 billion); a village 13 million square feet will be built for the athletes.
The police plan to keep the campaign going until Sept. 20, according to a reporter with Wuhan Evening News, who asked police who had been apprised of the situation.
Similar inspections are taking place in the east coast province of Shandong. On Aug. 14, a staff member at a decorative materials market in Jinan, the capital, told The Epoch Times, "I can't remember how many times they have closed down. Anyhow, if any news of inspections spread, the businesses will all close down to hide from the inspectors."
Read the original Chinese article. 
The Epoch Times publishes in 35 countries and in 19 languages. Subscribe to our e-newsletter.