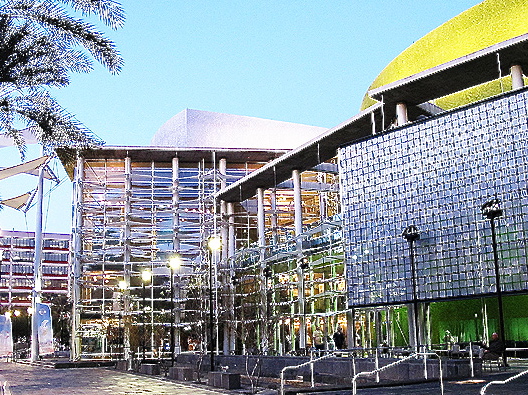 MESA, Ariz.—Bill Bailey, owner of Internet retail company Nodal Ninja, and his wife Kim, a real estate agent, felt blessed to attend Shen Yun Performing Arts at the Ikeda Theater in the Mesa Arts Center on March 2.
"It was excellent—a real vibrant explosion of color, song, and dance," said Mr. Bailey.
Nodal Ninja was established in 2004 and sells panoramic photography equipment online.
Through the medium of music and dance, New York-based Shen Yun "weaves a wondrous tapestry of heavenly realms, ancient legends, and modern heroic tales, taking you on a journey through 5,000 years of Chinese culture," according to the company's website.
Mr. Bailey was most impressed with the dancers and the different styles of dancing. Shen Yun's website says, "Chinese dance is at the heart of what Shen Yun does. Known for its incredible flips and spins, and its gentle elegance, it is one of the most rigorous and expressive art forms in the world."
Both Mr. and Mrs. Bailey were also delighted by the solo singers, who sing in the challenging bel canto style.
"All the singers were powerful singers. It sounded like they were using microphones. … So the resonance in the entire theater complex was just amazing," said Mr. Bailey. He said the lyrics were inspirational.
Mrs. Bailey enjoyed the entire performance of Shen Yun. "I absolutely loved it. I just thought it was amazing. The costumes were out of this world. The colors were just incredible. The dancing was excellent. They were so energetic. It was just like watching a dream. It was beautiful," she said.
Shen Yun's backdrops are digitally projected and contain animated sequences that interact with the performers. "The backdrops were incredible," said Mr. Bailey. "It was creative how they use the film in the background and the artwork with the performances."
Mr. Bailey thought Shen Yun was a very good cultural experience. His wife agreed. "I feel that it gave me a greater insight into the Chinese culture and a better understanding of the people and the journeys they've had to go through in their own country. So I actually found it very inspirational," said Mrs. Bailey.
Mrs. Bailey was shocked to hear during the performance that Shen Yun could not be shown in China today. "I felt a little bit emotional watching it, because they were talking about what they weren't allowed to show back in China now. It is such a shame, because all those beautiful cultural experiences that go back thousands of years, and yet people aren't allowed to express that in their own country. I think that is very sad," she said.
Bill and Kim Bailey said they would highly recommend Shen Yun to anyone.
"It was very spiritual and uplifting, as well as also very entertaining," said Mrs. Bailey. "I give it five out of five stars. It was just excellent."
"It was absolutely fantastic," said Mr. Bailey. "It matches our lifestyle: exuberant, vibrant, lively, energetic, colorful, creative, artistic, just to name a few things!"
Reporting by Jana Li and Sarah Le.
New York-based Shen Yun Performing Arts has three touring companies that perform simultaneously around the world. For more information, visit ShenYunPerformingArts.org
The Epoch Times publishes in 35
countries and in 21 languages. Subscribe to our e-newsletter.