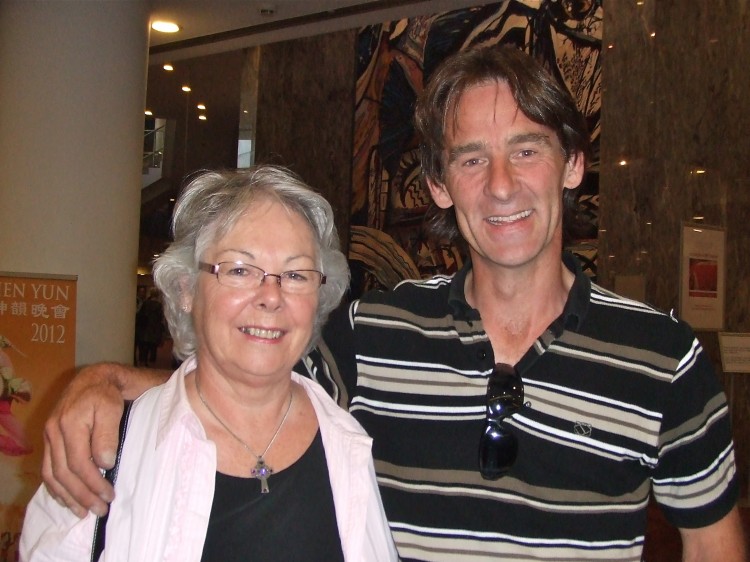 AUCKLAND, New Zealand—Caroline Sutherland fell in love with the vocalists when she attended Shen Yun Performing Arts when it played at the matinee session on Saturday, April 21, at Auckland's ASB Theatre.
Ms. Sutherland who is a retired University of Auckland academic was accompanied by her son, Jason Weatherley.
Mr. Weatherley decided on the spur of the moment to buy his mother a ticket to Shen Yun at a local mall and then the following week realised he couldn't let his mother attend the performance on her own.
New York-based Shen Yun is one of three classical dance and music companies that are touring the world simultaneously with the sole purpose of restoring the 5,000-year-old Chinese culture to its former glory.
Each company has a full orchestra that combines Western classical instruments with traditional Eastern instruments. The orchestras play all-original compositions.
Shen Yun's tenors, Tian Ge and Hong Ming, and soprano, Chia-Ning Hsu drew praise from Ms. Sutherland.
"They just give me goose bumps," she said adding that the voices were beautiful.
Shen Yun's vocalists sing in the bel canto opera style, which demands a high degree of precision in order to retain the correct Chinese articulation and diction, says Shen Yun's website.
"I just loved it. I loved the colour and feminity," said Ms. Sutherland who said that she had been touched by the pure beauty of the show.
The performers danced with amazing synchronicity, she exclaimed, "Gorgeous!"
Shen Yun's repertoire includes story-based dances which depict legends and stories that come from China's many dynasties to modern day China.
Ms. Sutherland was happy to discover that humour was also a part of the entertainment offered by Shen Yun's choreographed story-based dances.
It was the first time that Mr. Weatherley had attended a live show. "No regrets, none whatsoever. It was well worth it," he said with enthusiasm.
Shen Yun Performing Arts, based in New York, has three touring companies that perform simultaneously around the world, with a mission to revive traditional Chinese culture. Shen Yun Performing Arts will perform at the ASB Theatre, Auckland through April 22.
For more information, visit ShenYunPerformingArts.org.