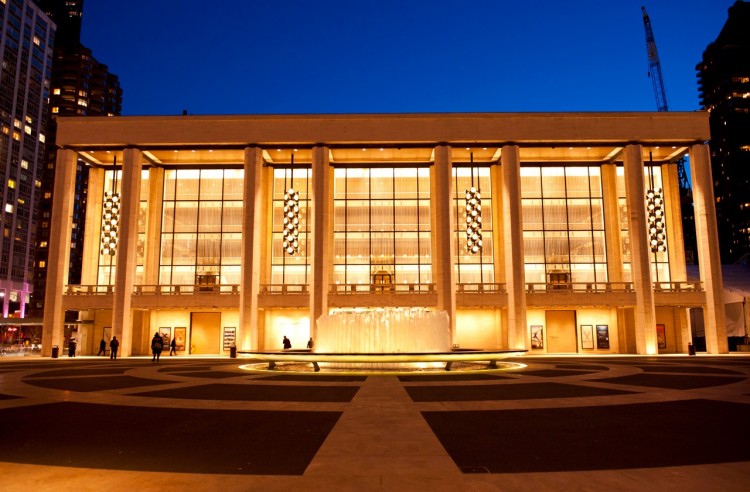 NEW YORK—Shen Yun Performing Arts graced the stage at Lincoln Center's David H. Koch Theater on Thursday April 19, impressing the full-house audience with its dazzling display of traditional Chinese culture.
"There are so many beautiful things there [in the performance], and nothing bad," said Mr. Mansoor Hussain, who writes for a leading Pakistani publication. "Everything is beautiful."
Mr. Hussain was so enamored with the performance, calling it "impressive, very impressive," that he planned on bringing his family the very next day to see it.
The digital backdrop, which displays different scenes, from sacred halls and holy temples to ancient gardens and Tibetan peaks "were from the heaven," said Mr. Hussain.
The backdrops and a unique orchestra that melds classical Western and Chinese instruments accompany classical Chinese dance, one of the most comprehensive and expressive dance systems in the world.
Shen Yun's dancers are adorned with handmade, colorful costumes, including ethnic clothing—such as the sturdy leather boots and sleeveless padded jackets of the Mongolians—and heavenly regalia depicting celestial fairies, Buddha, Bodhisattvas, Daos, and other deities, according to the company's website.
Another component of Shen Yun are award-winning vocalists, who sing in Chinese with English subtitles on the digital backdrop behind the vocalists. Mr. Hussain found the message coming from the songs illuminating.
"When they were singing, they were delivering a very beautiful message that life is like waves, you have so many delusion[s] in your life," he said. "But if you see some truth, you will reach to the destination and you, if you see truth, you will go to your home. When they were singing, the message was very attractive."
The lyrics are all original compositions, according to Shen Yun's website, which continues with a description: "Brimming with philosophical reflection about human life and deep layers of meaning, they traverse the boundaries of nation, race, and culture and have been fondly received and appreciated the world over."
Mr. Hussain said the message was one that could translate to real life.
"It was a really strong message in that in life you have many problems, but at least you are on the right path, you will be on your destination," he said.
'It was fantastic'
Mrs. Lily Illickal, a former professor of English Literature and current philanthropist, was also in the audience on Thursday.
"It was fantastic," said Mrs. Illickal. "Discipline, and the control and the beauty, and the gentleness of the woman—it's like flowing down the river."
Shen Yun shows the 5,000-year-old, divinely inspired Chinese culture, according to the company, from the dawn of Chinese civilization to modern times. Communist rule in China nearly destroyed this culture, which is why Shen Yun formed and began touring the world, reviving the culture and its profound "values of benevolence, honor, propriety, wisdom, and sincerity, as well as a reverence for the gods and the heavens."
"I know a lot about what is happening in China right now—they [the communist regime] don't want religion," said Mrs. Illickal. "They want to wipe out the entire history and culture of the past."
Mrs. Illickal and her husband said they would make attending Shen Yun a regular occurrence if it performed regularly at Lincoln Center.
"We just loved it," she said. "We would like to see this every evening."
Reporting by Tracey Zhu, Wei Si, and Zachary Stieber.
Shen Yun Performing Arts, based in New York, tours the world on a mission to revive traditional Chinese culture. Shen Yun Performing Arts Touring Company will perform at the David H. Koch Theater at Lincoln Center through April 22.
For more information, visit ShenYunPerformingArts.org.