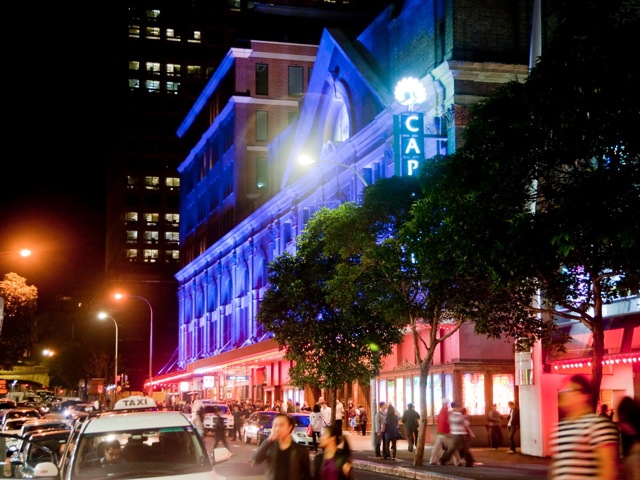 SYDNEY—Former member of the Australian Army, George Berrin, was deeply moved seeing the Shen Yun Performing Arts New York Company presentation last year, and so far this evening it's the same, he said, during the intermission of the performance on April 4, at Sydney's Capitol Theatre.
What touched Mr. Berrin most was "the feelings that you get … there's a message there for everybody and it's very, very good."
Mr. Berrin talked about the feeling that one gets when others are confronted with much hardship, but "they're looking on the positive side of life even when they're under suppression and depression, they still fight," he said.
"I understand with the help of the subtitles what the songs are about, but the story that you tell in all of your scenes is easy to recognize—a message of good-will" he added.
Based in New York, Shen Yun Performing Arts was established in 2006 with the mission of reviving 5,000 years of divinely inspired Chinese culture says the company's website. Each performance features a blend of classical Chinese dance, and folk and ethnic dance, as well as songs and a full orchestra that combines Eastern and Western instruments.
Mr. Berrin really enjoyed the folk and ethnic dances, "the Tibetan dancing and the Taiwan dancing were very, very nice," he said.
"I [also] liked the village-type dances and their costumes. From the costumes to the choreography and the backdrops was all very, very good," he added.
Shen Yun's digital backdrop team creates vividly animated settings, says the company's website, extending the stage and transporting the audience to a world where heaven and earth are one.
'One of the best shows I've ever seen'
Also among the audience was Robert Lee Andrew, with three elderly family members, some in their top eighties. "They all thoroughly enjoyed it," said Mr. Andrew, "I imagine we'll just be talking about it for the next few days."
Mr. Andrew, a retired public servant, also worked as a consultant, was a Union official for many years and if that wasn't enough found time to look after street kids.
"I've seen a lot of shows around the world, but it's one of the best shows I've seen, and looking forward to the next production in Australia," said Mr. Andrew. "The dancing, the precision, costuming, timing, everything was absolutely excellent," he added.
The Chinese have legends depicting the culture's divine origins. This mythology continued to grow throughout the generations, creating incredibly rich folklore, states the Shen Yun website.
Mr. Andrew reflected on the cultural side: "This is a sort of new adventure, it's going back in time, but I think it's what people want to see.
"I think it helps us to understand cultures of other parts of the world, because we haven't had very much introduction to China … why not bring some culture into other parts of the world so we can probably, maybe, understand [one another] a little bit better?"
Many of the tales and characters depicted in Shen Yun dances draw inspiration from ancient records and classics, says the company's website. These stories are treasure troves of ancient China; once opened, the traditional Chinese culture immediately reappears.
Mr. Andrew was also impressed by the precision of the dancing, "just absolutely brilliant," he said, and the scenery, "was something quite different, something we haven't seen here," he added.
Reporting by NTD Television and Ron Champagne.
Shen Yun Performing Arts New York Company is one of three companies simultaneously touring more than 100 cities on four continents.
For more information visit ShenYunPerformingArts.org
The Epoch Times is a proud proud sponsor of Shen Yun Performing Arts,
The Epoch Times publishes in 35 countries and in 19 languages. Subscribe to our e-newsletter.