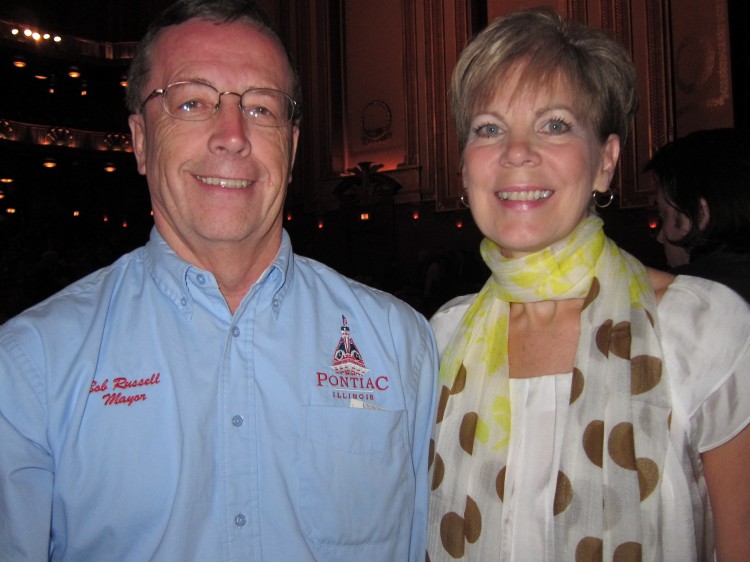 CHICAGO—Chicago audience witnessed a packed matinee production of Shen Yun Performing Arts at the Chicago Civic Opera House on Saturday April 21. This is the third of five shows of the New York-based company in the windy city this year.
"It's just amazing. We have enjoyed it so much. It's just one of the best productions I've ever seen," said Mayor Robert T. Russell of Pontiac, a city an hour and half from Chicago.
"It's very beautiful. It's fun to see the animation come out into real life. It's very beautiful and flowing," he said
"We attended the performance with Tang Dongbai a very famous artist from China who moved to Pontiac to open an art studio called Dongbai International Airbrush Art School. We have about 20 students from the school attending today," the mayor added.
Shen Yun creates an all-new production every year.
Robet's wife, Susan also attended the matinee production. "Beautiful, it's just outstanding especially the beautiful piano. I'm from a small town so we don't have this opportunity locally. But, it's very nice to be here and to enjoy this again! It's just so beautifully done. It's very professional and it's more than I imagined it would be. I'm very happy to be here," said Susan. "As close as we are sitting and to see the beautiful expressions on their faces is so lovely," she added.
Reporting by Valerie Avore and Andrew R Darin.
Shen Yun Performing Arts, based in New York, has three touring companies that perform simultaneously around the world, with a mission to revive traditional Chinese culture. Shen Yun Performing Arts International Company will perform in Chicago through April 22.
For more information visit ShenYunPerformingArts.org
The Epoch Times is a proud sponsor of Shen Yun Performing Arts.