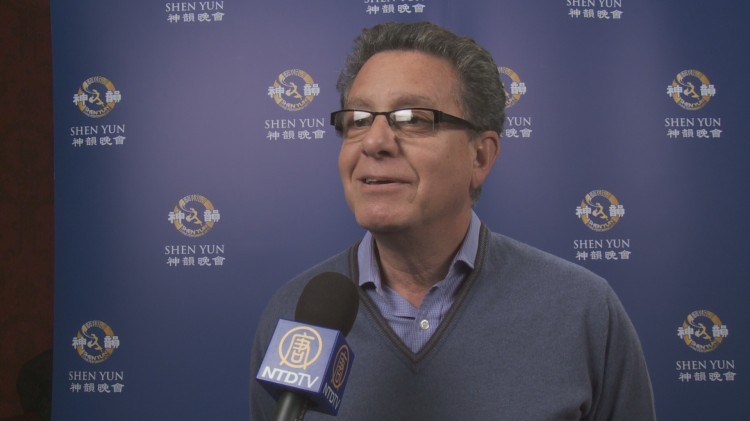 LONDON—Shen Yun Performing Arts International Company graced the stage on Sunday April 15 at the London Coliseum, its last performance of a highly successful tour of Europe and another full house.
Based in New York, Shen Yun has three dance companies, and orchestras, touring the world reviving the 5,000-year-old Chinese culture, along with its values, such as benevolence, wisdom, and honor, according to its website. This culture was nearly destroyed by more than 60 years of communist rule in China.
Larbi Rimiki, Press and Culture Attaché of the Moroccan Embassy in London, was among the audience.
"It's really amazing," said Mr. Rimiki. "So colourful, full of joy."
With a core of classical Chinese dance, Shen Yun also boasts a full orchestra that deftly melds Western and Chinese instruments, as well as a digital backdrop and handmade, colourful costumes.
Mr. Rimiki said the dancers seemed to be floating at times. "They're so flexible, they're just fantastic," he said. "They must have the best preparation to do that. I'm talking about the dancers, I mean, this is really impressive, frankly."
An ancient art form that used to be shown only to emperors and the royal court, classical Chinese dance involves complete training in the fundamentals, systematic training in movements and postures, and very difficult jumping and tumbling techniques, explains the company's website. "And so, alongside ballet, classical Chinese dance is one of the most comprehensive dance systems in the world."
Mr. Rimiki was glad he saw the performance. "It's really very nice. I mean the colours, [the] dresses are fantastic. I'm really enjoying it."
'Transported us to another universe'
Also in the audience on Sunday was Rochelle Ferguson, a journalist for Vox Africa in London. 
The Shen Yun Orchestra features a philharmonic foundation of Western instruments with Chinese instruments leading the melody, such as the pipa (Chinese lute), erhu, (two-stringed Chinese violin), and dizi (Chinese flute). The erhu and pipa are thousands of years old.
"I think it's the way that music has been used to portray so many different emotions; there's humour in there, there's sadness, there's anger, and I think that the way that it's been done is very delicate," Ms. Ferguson said. "The music allows for many different emotions and I think it's very rich and takes you on a journey."
As for the performance itself, Ms. Ferguson felt it was amazing. 
"I think it's transported us to another universe," she said. "There's a real mix of reality and fiction as well, so it's been great. I've really, really enjoyed it."
Reporting by NTD Television and Zachary Stieber
Shen Yun Performing Arts, based in New York, has three touring companies that perform simultaneously around the world, with a mission to revive traditional Chinese culture. Shen Yun Performing Arts International Company will next perform in Chicago at the Civic Opera House, April 19-22.
For more information visit ShenYunPerformingArts.org