MINNEAPOLIS—VIPs welcome and thank Shen Yun on its return to The City of Lakes for three performances at The Orpheum Theatre from March 9 to 11.
Tom Hoch, president and CEO of Hennepin Theatre Trust, welcomed "the brilliant and inspiring Shen Yun to the Orpheum Theatre." He stated, "We thank this extraordinary company for bringing the beauty and sheer magic of Shen Yun to the historic Orpheum stage."
The Orpheum stage, previously called the Hennepin, is steeped in history. In 1921, the Marx Brothers were its first performers drawing a crowd of 70,000 in its opening week.
New York-based Shen Yun's mission is to revive 5,000 years of divinely inspired traditional Chinese culture. China's ancient traditions and rich culture have been almost completely destroyed by more than 60 years of Chinese Communist Party rule and the Cultural Revolution.
"Shen Yun Performing Arts enriches the lives of theatre-goers and our community in powerful and lasting ways. In ancient China, culture was heralded as a divine gift; this is a belief to which we all can aspire as we continue to learn from each other and share the gifts of our respective cultures," Mr. Hoch said.
As the world's premier classical Chinese dance company, Shen Yun brings to life beloved characters, myths, and legends through classical dance, traditional folk dance, and ethnic dances, along with original orchestral music combining western and eastern instruments.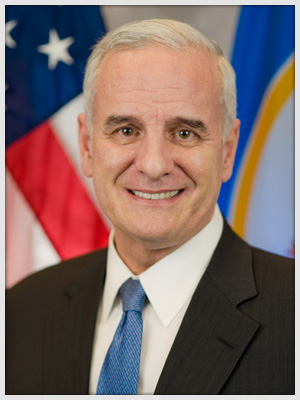 Minnesota Governor Mark Dayton also thanked Shen Yun. He said, "The artistic expressions developed by Shen Yun help promote greater awareness and understanding of Chinese culture.
"Through events such as this, the citizens of Minnesota are able to engage in a rich and important cultural exchange, which promotes unity among our people. As Governor of the State of Minnesota, I sincerely thank the members of the Shen Yun Performing Arts," Governor Dayton said.
Minneapolis Mayor R.T. Raybak praised Shen Yun by saying "This is a special occasion in which viewers from every walk of life are able to enjoy centuries-old Chinese tradition and values."
New York-based Shen Yun Performing Arts has three touring companies that perform simultaneously around the world. Shen Yun Performing Arts Touring Company has two more performances in Minneapolis and then will be at Clowes Memorial Hall of Butler University, in Indianapolis for two performance, March 13 and 14.
For more information, please visit ShenYunPerformingArts.org.