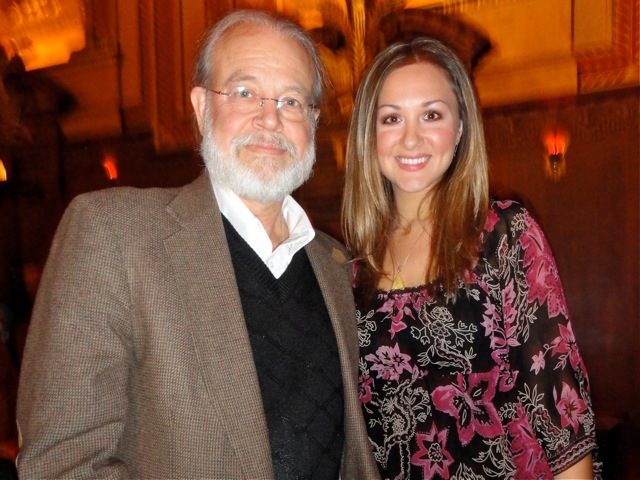 CHICAGO—Shen Yun Performing Arts concluded its 2012 tour in Chicago with its final matinee performance at the Civic Opera House, on Sunday April 22.
Based in New York, Shen Yun Performing Arts was established in 2006 with the mission of reviving 5,000 years of divinely inspired Chinese culture.
In the audience were John Fleming, a veterinarian, his daughter, Laura Ghera, a music teacher, and her husband Jason Ghera.
Mr. Fleming said he was surprised by "all the deep truths" that were displayed in the performance, which draws from legends and stories from China's 5,000-year-old civilization.
"It is about good and evil, right and wrong. Every dance has a true meaning to it, every song has a deeper spiritual, from the heart, truth," he said.
Ms. Laura Ghera said of the performance, "It's amazing. It's beautiful. It's gorgeous!"
She commented on the Shen Yun Orchestra, which combines classical Western and traditional Chinese instruments to create a unique sound. She said, "It's outstanding, it's beautiful. The erhu I know, I love that instrument, so I'm always listening for that, it's wonderful.
"The orchestra is amazing, so to hear the Eastern instruments and the Western, it's really well done," she added.
Ms. Ghera said she would have liked a DVD of the performance to show to her music students, adding that Shen Yun was also "visually stunning."
"The colors were awesome," said her husband Jason.
Mr. Fleming was also impressed with the solo vocalists, who sing in the bel canto style, and the message of the lyrics that were displayed on the backdrop. "Like the song said, this is the way to find your way back to creation. It means going back to the original meaning of life, peace, and kindness to one another. You don't hear that on the radio. This is good stuff," Mr. Fleming said.
A Shen Yun performance provides a collection of short pieces that take the audience to the Himalayas, tropical lake-filled regions, to ancient legends, and to the story of Falun Dafa in China today, a traditional spiritual discipline whose followers are persecuted for their faith.
"I like the [performance] when the young man was being persecuted and the [enlightened] beings came out of the mountain to protect him and give him power because he was right. He was being mistreated. That was a strong piece," said Mr. Fleming.
"It was like a visual history of China, a visual insight into the soul of of China," he added.
Reporting by Catherine Wen and Maureen Zebian.
Shen Yun Performing Arts, based in New York, has three touring companies that perform simultaneously around the world, with a mission to revive traditional Chinese culture. Upcoming performances in the United States include Chattanooga, Tennessee, on April 24, and Columbus, Ohio, on April 26-27.
For more information visit ShenYunPerformingArts.org.
Epoch Times is a proud sponsor of Shen Yun Performing Arts.