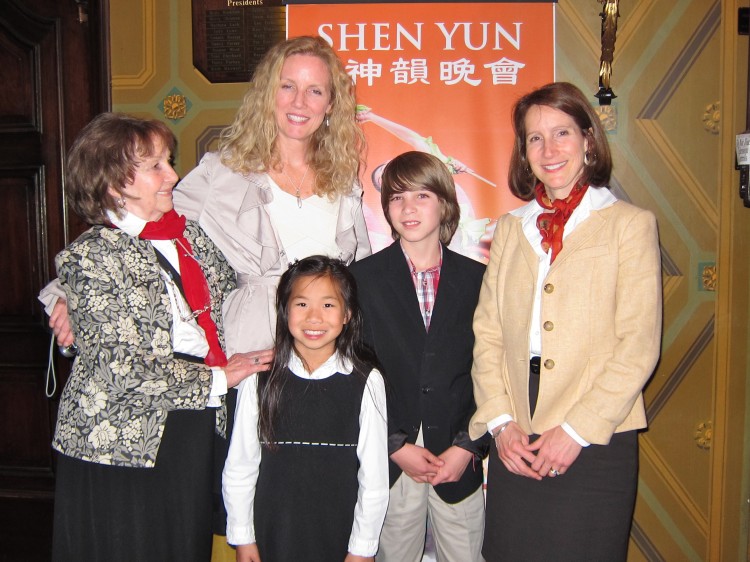 COLUMBUS, Ohio—Clinical psychologist Regina Shillinglaw drove from Dayton with her family to watch Shen Yun Performing Arts at the Ohio Theatre, Friday evening, April 27.
"We thoroughly enjoyed it, we very much did. We're here with my sister and my mother. My sister brought us all here for the show, and of course my daughter is Chinese. We just had a great time, we were very impressed!"
New York-based Shen Yun travels the globe on a mission to revive traditional Chinese culture through performing arts. Ms. Shillinglaw felt seeing Shen Yun is a valuable experience for her daughter, helping her touch base with her cultural heritage. "I definitely do. I think that she learned a lot about her culture, and she is a dancer herself."
Ms. Shillinglaw's sister, Leslie Dillingham, Senior Account Executive for XL Video arranged for tickets to the show, so the family could experience it together. She excitedly said, "Oh, I thought it was it was just fantastic! I think I was mostly impressed with the discipline and the artistry of the performers and just their beauty and the grace of the women, the men too, but especially the women."
Ms. Shillinglaw's son was equally impressed and said, "I thought the show was amazing. I didn't expect all … flips and stuff. I highly recommend it."
Shen Yun artists cultivate virtue because they feel that to create art worthy of the Divine, there first must be inner beauty and purity. They believe that just mastering the surface of art is not enough, so they take the wisdom and values of traditional Chinese culture as part of their lives.
Ms. Shillinglaw said Shen Yun piqued her interest in learning more about classical Chinese culture. "I would be interested to know. There were a lot of Buddhas. I think it would be really educational [to know more]."
Referring to the performance, Snowflakes Welcoming Spring, in which the dancers take small, quick steps through snowy fields, Ms. Dillingham said, "The snowflake dance was quite beautiful, very beautiful."
She had high praise for the singers and noted the performance, "Undo the Delusion That Binds You." "I thought that the first opera singer was outstanding."
The Shen Yun orchestra masterfully blends two of the world's greatest classical musical traditions – Western and Eastern—presenting a soul-stirring performance. Ms. Dillingham appreciated this and said, "I thought the orchestra was fabulous. I loved the way they introduced the orchestra, I thought that was a unique way—by calling out the types of instruments."
Chinese people have long held that their magnificent culture was a gift from the Divine. This precious gift was nearly destroyed by communist rule in China, thus Shen Yun is based in New York and cannot currently travel to the land whose culture it is bringing back to life.
Commenting on the performances that touch upon the persecution of Falun Dafa practitioners in China, Ms. Dillingham said, "I don't think anyone should be persecuted for their beliefs."
Praising various aspects of the performances, Ms. Shillinglaw said, "We were just really impressed with obviously the skill and the grace of the dancers, and the strength and the stamina and just everything. The costumes were just overwhelming! I mean they were just so beautiful! I won't be able to describe to people how beautiful this performance was. Its one of those things, words don't quite do the trick. I'll just have to recommend that people see it in Dayton because it is going to be in Dayton on Tuesday night and that's near where I am from."
Ms. Dillingham concluded by saying that she would recommend Shen Yun to her colleagues and friends. "I would recommend it. I would recommend it for the artistry and for the message. Most of my friends will definitely be coming."
Reporting by Valerie Avore and Jeanmarie Lunsford.
New York-based Shen Yun Performing Arts has three touring companies that perform simultaneously around the world. Shen Yun will next perform in Dayton, Ohio on May 1. For more information, visit ShenYunPerformingArts.org
The Epoch Times is a proud sponsor of Shen Yun Performing Arts