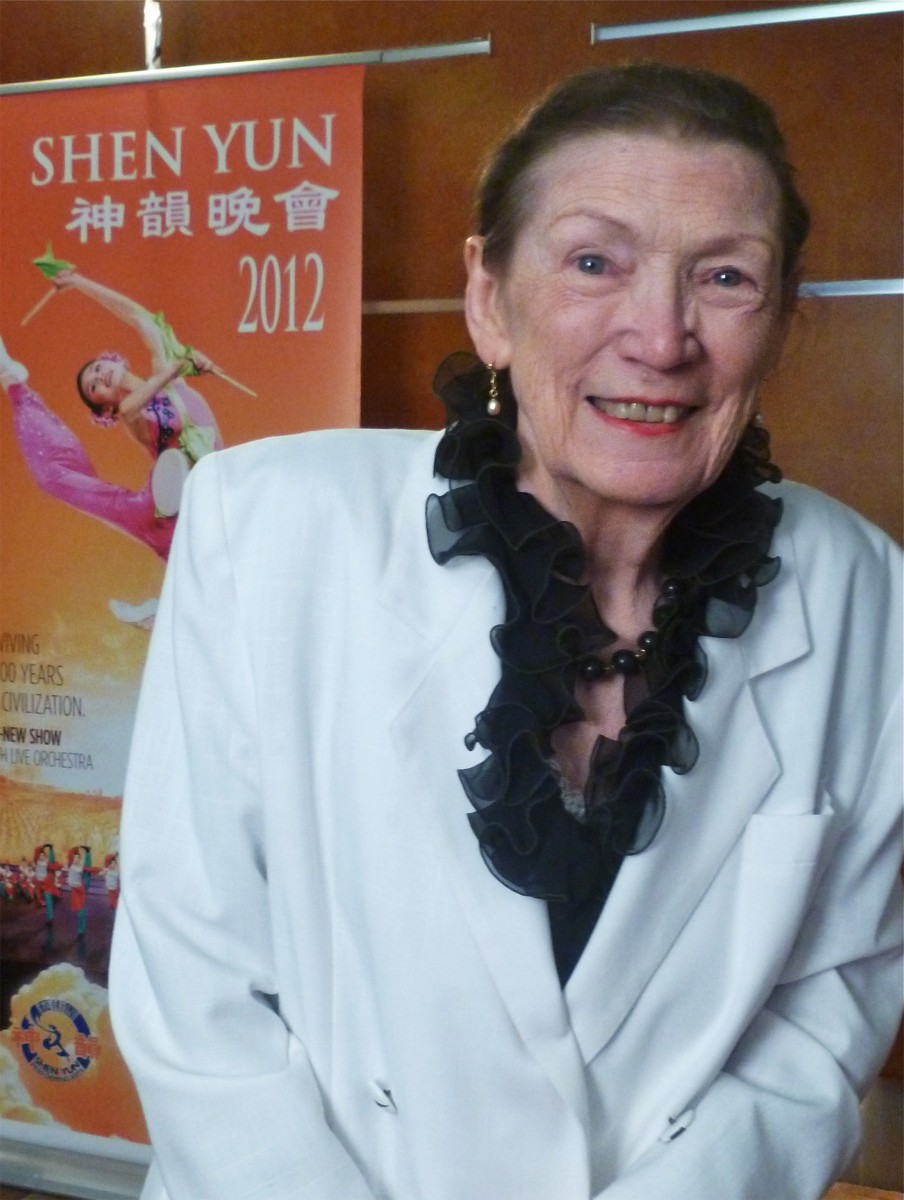 SYDNEY—Renowned actor, singer and publican Doris Bishop (nee Goddard) said Shen Yun Performing Arts brought her back to her days of travelling the world, which included singing in China.
Ms. Bishop ended her acting career in 1964, after acting alongside the likes of Bob Hope, Katherine Hepburn and Peter Ustinov.
"I loved it," she said during intermission at Sydney's Capitol Theatre during Shen Yun's final Sydney performance on Sunday May 6.
Shen Yun Performing Arts, based in New York, was established in 2006 with the mission of reviving 5,000 years of divinely inspired Chinese culture, and Shen Yun now has three companies that perform simultaneously around the world, showcasing the beauty and grace of China's cultural heritage.
Ms. Bishop said she most enjoyed the music. Shen Yun performs with a unique orchestra, which combines classical Western and traditional Chinese instruments like the pipa and suona that many in the West have never heard before. There is also bel canto singing and a solo performance of another Chinese instrument, the erhu, sometimes known as the Chinese violin.
"I loved the singing and the music," Ms. Bishop said. "It's a bit different than what we are used to but after being back in Australia for a while, you know, you forget. But I sang in China."
After leaving Hollywood, Ms. Bishop set up a series of bars through Sydney, including Hotel Hollywood in Surry Hills. She is now one of Sydney's better known identities.
She thinks that a lot of the world's problems could be lessened if people spent more time making and listening to music.
"I think that music and song helps the savage beast. If people sang more and enjoyed more there would be less war," she said.
Reporting by NTD Television and Ethan Yang.
Shen Yun Performing Arts, based in New York, has three touring companies that perform simultaneously around the world, with a mission to revive traditional Chinese culture. Shen Yun Performing Arts New York Company will next perform in Honolulu, Hawaii, on May 8-9.
For more information visit ShenYunPerformingArts.org
The Epoch Times publishes in 35 countries and in 19 languages. Subscribe to our e-newsletter.