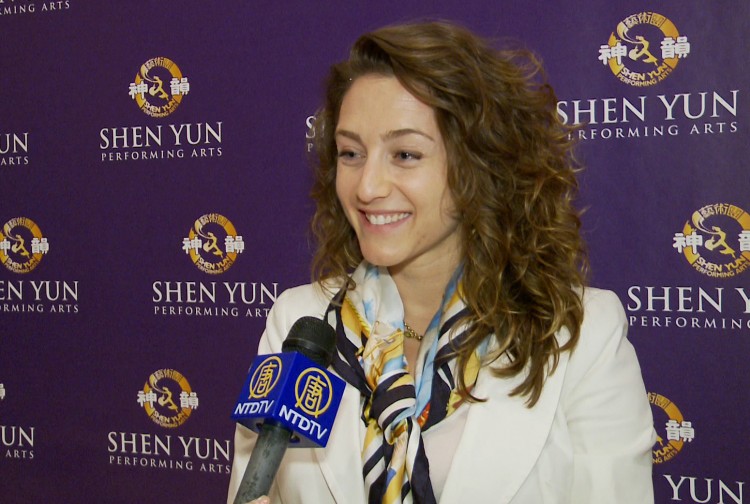 NEW YORK—Shen Yun Performing Arts filled the David H. Koch Theater at the Lincoln Center with thousands of years of Chinese culture, leaving the audience in amazement on Friday night.
The performance left a lasting impression on Brooke Goldstein, an author and human rights attorney, who has appeared as a commentator on CNN, CBS, FOX, and other major television stations. 
"It was most fantastic. It is wonderful. I recommend it to everyone," she said.
Shen Yun's dancers train in classical Chinese dance—a complete system that is thousands of years old—to express the inner meanings of China's culture, the website states.
"I had no idea how diverse Chinese dance culture was. I'm so impressed, there's so much talent," Ms. Goldstein said.
The dance is rooted in the millennia-old culture of China, which the company says is "divinely inspired" and is also "a dance art form built upon a deep foundation of traditional aesthetics."
In the performance, Ms. Goldstein said that "everything is unique. I've never seen so many people dance in unison."
The performance also prominently features a digital backdrop that is used to project background scenery filled with movement. The dancers are able to interact with the backdrop and it shows figures coming down from the heavens and onto the stage.
"The use of graphics behind the stage [was] wonderful," Ms. Goldstein said. The combination of everything on the stage had a "great effect" and was "timed so well," she added.
Shen Yun also has several world-renowned solo singers who use the bel canto singing technique. Each performance features a unique orchestra that joins together Western and Chinese musical traditions, using instruments from each culture.
"The vocal talents were perfect. There was not one chord that was off. I'm extremely impressed. I also really, really enjoyed the young lady on the piano" who accompanies the vocalists, Ms. Goldstein said. "She is very talented."
Ms. Goldstein said she "discovered that there's so much depth" to Chinese culture. "It's very interesting to see. I really like the piece about Falun Gong." 
There are several story dances about Falun Gong, a meditation practice currently persecuted in China.
"It's very moving and I really appreciated that very, very much," she said.
Reporting by NTD Television and Jack Phillips.
Shen Yun Performing Arts, based in New York, tours the world on a mission to revive traditional Chinese culture. Shen Yun Performing Arts Touring Company will perform at the David H. Koch Theater at Lincoln Center through April 22. 
For more information, visit ShenYunPerformingArts.org.