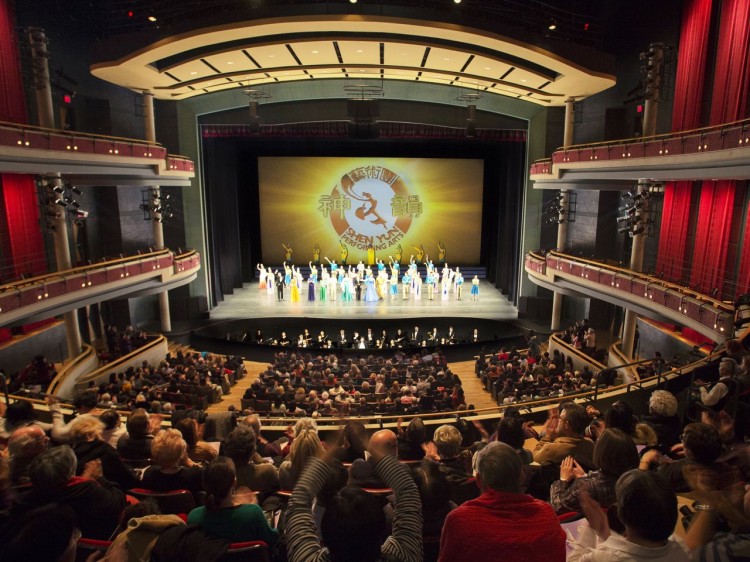 MISSISSAUGA, Canada—Shen Yun Performing Arts made its triumphant return to Canada this weekend, playing five sold-out shows at the Living Arts Centre for expectant audiences eager to embark on a journey through China's long and storied history.
In what has become a yearly tradition for many theatregoers during the holiday season, watching a Shen Yun performance has become a way to celebrate and ring in the New Year.
Long awaited and long remembered by those who have seen it, Shen Yun has made an indelible mark on the performing arts community in Canada since its first Canadian shows in 2006.
Many have commented on the hope and positivity Shen Yun instills in its performances and teary eyes are mixed with expressions of wonder at every show.
The multifaceted performance seems to resonate with all variety of theatregoers. Judging from the strong reviews and the enthusiasm of the audience, it appears New York-based Shen Yun has found its place among the world's greatest touring performances.
The hallmark of Shen Yun is classical Chinese dance, an art form developed throughout 5,000 years of Chinese history. The continually evolving dance system is one of the most complex and complete in the world, and those with an eye for dance express amazement at the agility, character, and technique of the dancers.
Artistic Excellence
Lee Tovey, wife of Mississauga city councillor Jim Tovey and a former professional dancer and instructor, called Shen Yun a first-class production, commenting, "It's as if their heart is one, so when everyone is dancing on the stage, the unity is beautiful."
Kelley Bodanis, another former dancer and a former Miss Dance Canada, echoed Mrs. Tovey's sentiment. "The dancing technique is beautiful. They're very, very graceful. The positions—the feet, arms, everything—they're very, very, very good. One of the best I've seen," she said
Jack Dheer, Rogers TV station manager and expert on all things audial and visual, was particularly impressed with the production values found in Shen Yun.
"The visuals, that just captures your eyes, it's just beautiful. I have to tell you the music is just phenomenal. I think the orchestra is excellent. Everything, visually and the audio, it's just absolutely beautiful," he said.
Mr. Dheer, named Mississauga's Citizen of the Year in 2005, has been working in television for 15 years. He reflected on the amount of work that would have to go in to produce something on the scale of Shen Yun.
"I think this has taken years to put together because there are so many aspects to it. And each and every part is so well choreographed and synchronized. And it's great storytelling without any voice. I just don't have words for it. It's phenomenal," he said.
In addition to a unique live orchestra, Shen Yun employs solo singers who perform using the bel canto style of singing, a style regarded by many as the pinnacle of the artistic expression of the human voice.
Tenor Marcus Saroop, who has been involved in opera and the performing arts since childhood, said Shen Yun was among the best productions he had ever seen.
"I haven't experienced anything like [Shen Yun]," he said. "I've experienced a lot of different operas, a lot of different shows, but nothing so wonderful."
Mr. Saroop praised Shen Yun's tenor, Yuan Qu, and soprano singers, Pi-ju Huang and Haolan Geng.
"They have great skill," he said. "The Chinese singers have been incredible."
Backdrops Give New Dimensions to the Dance
Veteran animator Charles Bonifacio, who directed the animation for the original Care Bear movies in the mid-1980s and has worked on a host of other iconic animated films such as Disney's Mulan and Tarzan II, had special appreciation for Shen Yun's vivid high-tech animated backdrops.
"It was very fun to see the dancers jumping down and then ending up on the moon or in the rivers—very exciting. It gives another dimension to the dance," Mr. Bonifacio said, describing the state-of-the-art animated graphics that complement and synchronize all aspects of the performance, including the characters, dance movements, and storyline.
"It gives you another dimension of space and time, and characters can come from another world or the moon and join the dancers on stage, so it gives that other spiritual dimension as well," Mr. Bonifacio noted.
The backdrops mesmerized viewers with glimpses of completely different worlds, from a tropical beach in one dance to Himalayan peaks in another, from ancient pavilions to vast grasslands, from the picturesque Yellow River Delta to celestial palaces.
Experience to Remember for a Lifetime
According to its website, Shen Yun's mission is to revive 5,000 years of divinely inspired Chinese culture.
Over the last six decades, with the rise of the Communist Party in China, much of the essence of the country's traditional culture has been lost—a culture that encompasses principles such as benevolence, justice, wisdom, propriety, and respect for the heavens.
Jeffery Klaehn, an author, editor, cultural commentator, and a professor at Wilfrid Laurier University, called Shen Yun a "brilliant and beautiful way to bring Chinese culture to audiences."
"Well worth the money. I've seen a lot of plays and musicals and this was just astounding," he said.
Mr. Klaehn offered a sentiment that many have echoed, calling Shen Yun "an experience I'll remember … we all will, for the rest of our lives probably."
New York-based Shen Yun Performing Arts has three touring companies that perform simultaneously around the world. Shen Yun's New York Company will play the first of five shows in Ottawa on Dec. 27 and then proceed to Montreal, Toronto, and other cities in eastern Canada. For more information, visit ShenYunPerformingArts.org
The Epoch Times publishes in 35 countries and in 20 languages. Subscribe to our e-newsletter.