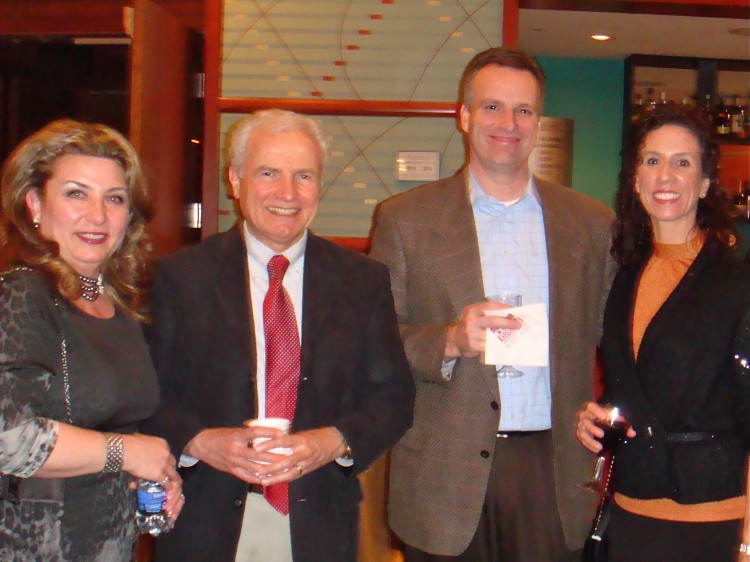 CINCINNATI, Ohio—Shen Yun Performing Arts, with a mission to revive the 5,000 years of true Chinese culture, graced the stage of Cincinnati's Aronoff Center for the Arts on Friday, Feb. 3.
Audience members John Larson, president and CEO of Escortradar and wife, Mary Larson, found Shen Yun's performance meaningful and colorful. Mrs. Larson particularly enjoyed the piece titled Lotus Leaves. "It's just beautiful," said Mrs. Larson.
Based in New York, Shen Yun Performing Arts has three companies, on its 2012 World Tour, each touring simultaneously with classical Chinese dancers, a full orchestra blending instruments from the East and West, two emcees, world-renowned vocalists and soloist musicians, hundreds of hand-made costumes, and a digital projection backdrop.
Shen Yun's performances are a collection of short-pieces inspired from rich Chinese culture. It is said that Chinese culture is divinely inspired and audiences travel in heavenly realms down to the Middle Kingdom, through the Himalayas to tropical lake filled regions and then to modern day China today, according to Shen Yun's website.
Dr. Freidoon Ghazi, a cardiologist, and Shelia Ghazi, real estate agent, fully agree with Mr. and Mrs. Larson. "I like the Tibet (dance piece). That piece with the guy dancers is really dynamic and added to the music. There was this one instrument playing, it sounded like the violin. It's a string instrument but it adds a lot of dynamics to the music."
"It's beautiful, it is very colorful, the choreography…" said Russian-born Mrs. Ghazi.
"I like the monks Joyful Little Monks, the music, and the background music fits the action," said Mr. Larson.
"There was a little bit of humor in there which was nice," said Mrs. Larson.
The Shen Yun performances include a digital backdrop designed by skillful artists using state-of-the-art graphics technology. "That was amazing, especially when the scenes and dancers evolve into coming out on stage, that part was great," said Mrs. Ghazi.
The digital backdrop designs complement and synchronize all aspects of the performance, from the characters, color of the costumes, each dance movement, notes played in the orchestra, to the story being told, according to Shen Yun's website.
"I love it! Especially the Monkey King How the Monkey King Came to Be," said Mrs. Larson. "The integration was nice with the character," agreed Mr. Larson.
Each held a spcial memory of the experience. Mr. Ghazi said that he would remember the pure talent coming from the performance, and Mr. Larson said he would remember "the mystery of China" while Mrs. Larson said she would remember the beauty of Shen Yun.
'It was spectacular'
Peter Seidner, former manager of a retirement center, and Elizabeth Seidner, an international executive recruiter, were among the audience too. "I liked the show very much! I thought it was spectacular. I love the colors of the costumes, the choreography, and I thought it was splendid. It was really a treat. Did you like it sweetheart?" Mrs. Seidner asked her husband.
"I loved it! I thought it was wonderful too. The colors were exciting and there is a nice message in the performance," said Mr. Seidner. He said he was confused at first when he saw Gods and Buddhas in the performance but felt there is a lot to digest from the performance.
"China has a very rich culture that we don't know anything about. Even though we read about China, I think even in China they don't know Chinese culture anymore. It is nice to see it come alive here," said Mr. Seidner.
Mrs. Seidner wondered why Shen Yun currently could not perform in China. China, since under the rule of communism, was forced by violence into an atheistic modern society which destroyed the Chinese's people's faith and respect in the divine and virtues, according to Shen Yun's website. Shen Yun's mission is to revive the essence and heart of traditional Chinese culture.
"This show is delightful. Shen Yun makes people feel good to come out and it shows a nice side from our life, particularly from China," said Mr. Seidner. "It is great," said Mrs. Seidner.
Reporting by Xin Xin, NTD Television and Kelly Ni.
Shen Yun Performing Arts has three touring companies that perform simultaneously around the world.
For more information, visit ShenYunPerformingArts.org.