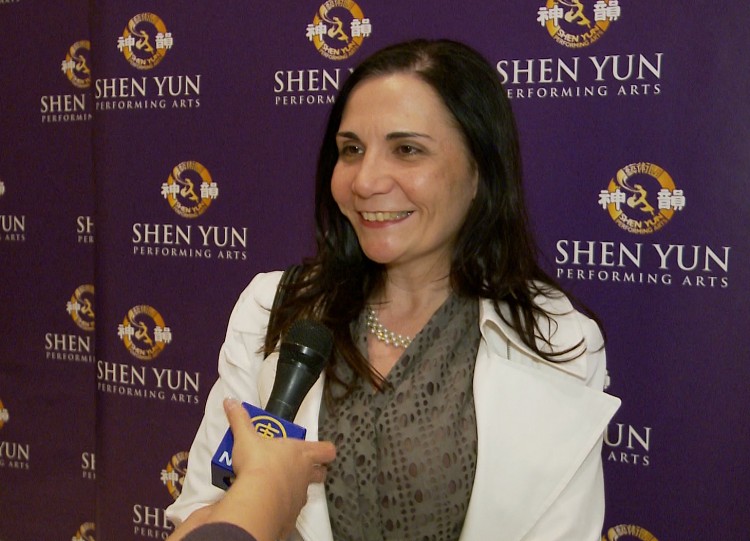 NEW YORK—Shen Yun Performing Arts graced the stage at Lincoln Center's David H. Koch Theater on Thursday April 19, and audience members had much to say about their experience.
"Unbelievable," said Elizabeth Torres, project manager for international law firm Jones Day. "It's amazing how they dance in unity. It's so beautiful."
The dancers are adorned with handmade, colorful costumes, from "the Tang Dynasty's 'Raiment of Rainbows and Feathers' to imperial dragon robes, phoenix coronets, and cloud capes, from the civil official's headdress and robes to the warrior's helmet and armor, and from the traditional rightward cross-collared Han clothing to the ethnic attire of the Manchurian, Tibetan, Dai, Mongol, and Uyghur ethnic groups," says Shen Yun's website.
"The costumes are amazing." Ms. Torres said. "The flow of the sleeves just looked so wonderful. It made me feel like I wanted to dance. It makes me think of peace, happiness, and joy."
A unique orchestra melding both Western and Chinese instruments, such as the 4,000-year-old erhu, also known as the two-stringed Chinese violin, accompanies the dancers.
"The music was amazing," said Ms. Torres. "Everybody [in the audience] was clapping, happy, smiling. It was a lot of fun. I felt very relaxed."
'This topped them all'
Merle Exit, a journalist who covers travel, dining, and entertainment, also attended Thursday's performance.
"All the dances were beautiful," she said. "The colors, the costumes, it was just great. Wonderful voices. I love their voices."
Shen Yun boasts award-winning vocalists, who sing original compositions on stage in bel canto style with Chinese lyrics and English subtitles.
"I thought this was absolutely fabulous," said Ms. Exit. "I've seen other shows, but this topped them all."
Reporting by NTD Television and Zachary Stieber.
Shen Yun Performing Arts, based in New York, tours the world on a mission to revive traditional Chinese culture. Shen Yun Performing Arts Touring Company will perform at the David H. Koch Theater at Lincoln Center through April 22.
For more information, visit ShenYunPerformingArts.org.