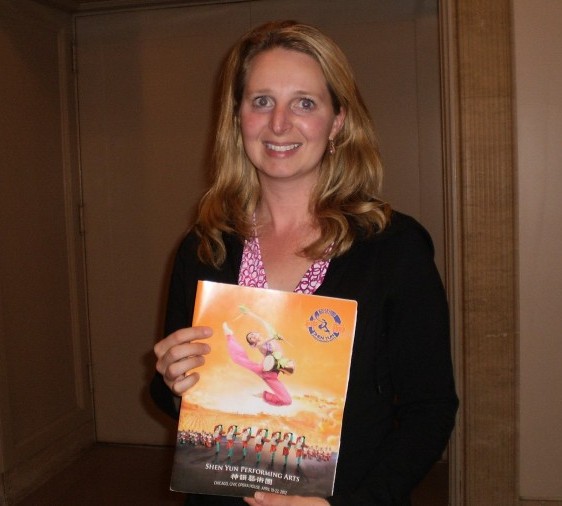 CHICAGO—"Magnificent, beautiful, vibrant, full of life," were the descriptive terms that English professor and former ballerina, Lucy Czesak, said of Shen Yun Performing Arts after seeing the show at Chicago's Civic Opera House, on April 22.
It was her second time to see Shen Yun and Ms. Czesak, who teaches in Bellevue College in Washington, brought her daughter, adopted from China, to the show.
New York-based Shen Yun presents stories through the traditional art of classical Chinese dance.
Ms. Czesak described the Shen Yun performance as, "absolutely beautiful- so well done," she said confessing that she had been a professional ballet dancer as a young adult.
"I could tell all the dancers are very well trained," she said.
Some of the stories depicted in Shen Yun are about ancient China, but contemporary scenes depicting the repression of belief in China today are also included.
Ms. Czesak was impressed with the straightforward treatment of this theme: "That was really refreshing to see them really strong on giving the message to the audience, that the persecution is still going on. I didn't know that this [Shen Yun] couldn't be performed in China, this is all new to me. I am really glad they are doing it."
In addition to the classical Chinese dance, some dances acquaint viewers with the ethnic cultures of China. These appealed to Ms. Czesak: "I am glad they cover Taiwan, Tibet … It's good. I would love to learn more now."
Reporting by Catherine Wen and Sharon Kilarski.
Shen Yun Performing Arts, based in New York, has three touring companies that perform simultaneously around the world, with a mission to revive traditional Chinese culture. Shen Yun Performing Arts International Company will perform in Chicago through April 22.
For more information visit ShenYunPerformingArts.org