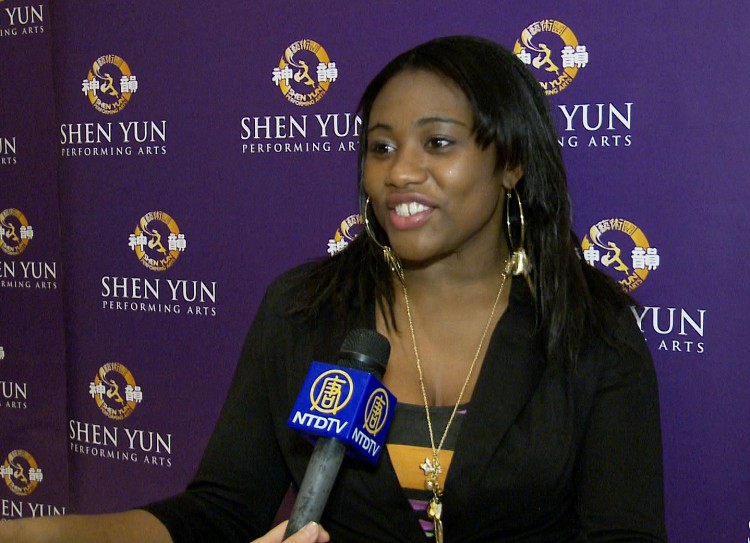 NEW YORK—Art student Trillet Robinson attended the Friday night, April 20, performance of Shen Yun Performing Arts at Lincoln Center's David H. Koch Theater and described it as "magical."
"It was beautiful. It was very magical—I am going to use that word. It was very beautiful," she said.
Based in New York, Shen Yun Performing Arts is the world's premier classical Chinese dance and music company, with a mission to revive the true traditional culture of China—a heritage that the ancient Chinese believed to be bestowed by heaven. Throughout the performance, the masters of ceremonies explain a little about the history and meaning behind classical Chinese dance, and the different movements.
"I understood a lot, which was surprising, because I am usually lost when it comes to different cultures, but it was more visual arts than anything, so it helped me through everything. So it was very wonderful, I enjoyed it a lot," Ms. Trillet said.
She said she called it "magical" because she felt part of the show.
"That is what I felt. It enlightened me a bit, you know. I just felt I am in the show too, like everyone else. Like the Monkey King … Buddha. I felt a part of it. That is why I used the word magical."
Ms. Trillet said she would take the experience home with her.
"It is still playing in my head." 
Reporting by NTD Television and Rebecca Hunnisett.
Shen Yun Performing Arts, based in New York, has three touring companies that perform simultaneously around the world, with a mission to revive traditional Chinese culture. Shen Yun Performing Arts Touring Company will perform at the David H. Koch Theater at Lincoln Center through April 22. 
For more information, visit ShenYunPerformingArts.org.