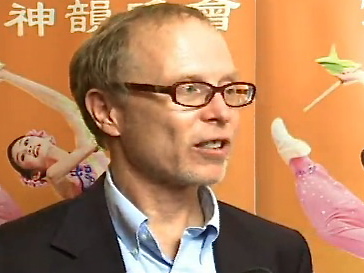 WASHINGTON—John Jameson, president of a telephone-voter contact firm, Winning Connections, was inspired after seeing Shen Yun Performing Arts at the Kennedy Center Opera House in Washington D.C., Saturday, March 24.
"The art, the choreography, the dancing, the colors, the movements, the screen behind—it is fantastic. It is high level art," said Mr. Jameson, a well known Washington identity.
Mr. Jameson has been a campaign manager for four different U.S. politicians, a political director for Vice President Al Gore and a Chief of Staff for Congresswoman Karen McCarthy. According to local media, he maintains his extensive political connections through regular functions at his beautifully restored 150-year-old house which has unhindered views to the statue of Freedom atop the Capitol dome.
For Mr. Jameson, experiencing Shen Yun was about connecting in a very different way.
"I really saw the soul of the Chinese people," he said, "the soul of [the Chinese] culture. Five thousand years old—I am very inspired."
After more than 60 years of communist rule in China, and the Cultural Revolution, China's 5,000-year culture was all but wiped out. According to the Shen Yun website, the New York-based company was formed by a group of overseas Chinese artists who wanted to restore and revive traditional Chinese culture. Six years later, Shen Yun has three touring companies, each with a complete classical Chinese dance company, a full orchestra and top musicians, and opera singers.
"A performance by Shen Yun is a presentation of traditional Chinese culture as it once was: a study in grace, wisdom, and the virtues distilled from the five millennia of Chinese civilization," the website states.
Mr. Jameson resonated with the content of Shen Yun, saying there was much Western audiences could learn from the unique cultural performance.
"We all have good and evil within ourselves and it seems like today, this was about how to bring out the good part of ourselves, the good part of our friends, our family and the good part of our country and our culture," said Mr. Jameson, who is well-known in Washington.
Reporting by NTD Television and Lillian Chang.
Shen Yun Performing Arts, based in New York, has three touring companies that perform simultaneously around the world, with a mission to revive traditional Chinese culture. Shen Yun Performing Arts Touring Company will perform at The Kennedy Center Opera House, Washington, D.C., through April 1.
For more information visit ShenYunPerformingArts.org