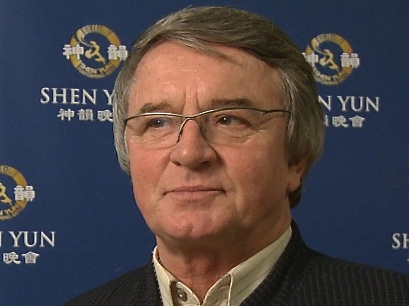 PRAGUE—Vlastimil Harapes, one of the most well-known and respected ballet dancers in Czech history, found himself immersed in the timeless beauty of Shen Yun Performing Arts at the Prague Congress Center.
"Amazing," he said at the show's intermission. "The awesome costumes are superior. It was an amazing experience."
"The whole atmosphere, the costumes, and the women's moves were beautiful—and I really like them," he added.
"Through the universal language of music and dance, Shen Yun weaves a wondrous tapestry of heavenly realms, ancient legends, and modern heroic tales, taking you on a journey through 5,000 years of Chinese culture," reads Shen Yun's website. "Its stunning beauty and tremendous energy leave audiences uplifted and inspired."
Mr. Harapes has danced for thousands of theatergoers in countries around the world, but he was in great admiration for the preciseness embodied by the Shen Yun dancers. "We waited for some mistake—but they just don't make mistakes. They are incredible," he explained. "The show is rehearsed so well. If I look at it from the professional point of view, I think the show is just flawless. It was just an incredible experience."
Shen Yun's dances "give dramatic portrayal to the cherished stories of past and present. Their figures embody the most exalted virtues of Chinese civilization, and convey a message or moral that is still relevant in our day," according to its website.
Mr. Harapes was unaware of exactly what kind of performance he would be experiencing with Shen Yun, but he expressed that he was far from disappointed. "My expectations were met. I expected the amazing experience, and now I can say the show was for me the amazing experience."
Adding: "My friends watched the show, too. They tried to discern a mistake, but they found nothing."
"I was captivated by what they can do," he concluded. "It is the absolute perfection and interplay with the orchestra. It is something unusual."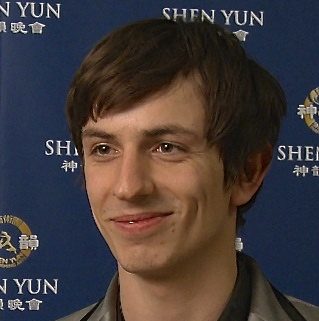 Also in attendance was soloist dancer Adam Zvonar of the Czech National Ballet.
"The performance was absolutely fascinating," he said. "I'm very happy I have had the opportunity to see this."
"Classical Chinese dance has helped preserve 5,000 years of Chinese culture," reads the Shen Yun Website. "Built on traditional aesthetics, it was once passed down among the people, in imperial courts, and through ancient plays. Over thousands of years, it was constantly refined, eventually developing into the vast and distinctly Chinese dance form we know today."
"The synchronization of dancers is amazing," Mr. Zyonar added.
He said that he had some familiarly with classical Chinese dance prior to seeing the show, but the evening's performance far surpassed what little he had encountered. "Classical chinese dance was introduced to me immediately after school, and now I've seen it with my own eyes," he said. "I liked it very much."
As for the nuanced inner meanings contained in the performances, Mr. Zyonar said none of that energy was lost on him: "I felt it personally—what they wanted to pass on."
With reporting by NTD Television and Michael Fitzgerald
New York-based Shen Yun Performing Arts has three touring companies that perform simultaneously around the world. For more information, visit ShenYunPerformingArts.org.