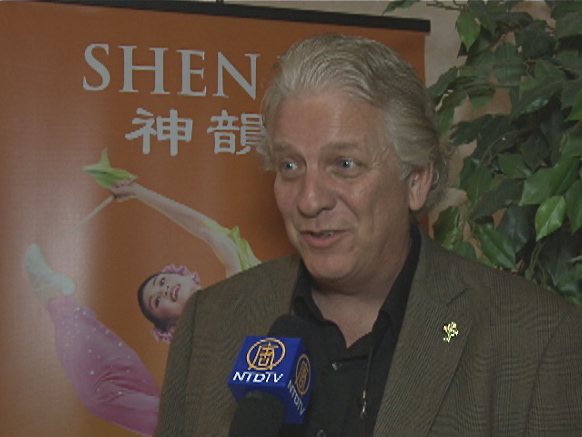 TOLEDO, Ohio—"I came with exceedingly high expectations and the show has exceeded them," said Jim Moody during the intermission of Shen Yun Performing Arts Touring Company's matinee performance at Toledo's Stranahan Theater on March 18. "It's beyond whatever I had imagined. I cannot wait for the second half to begin!"
"I thought the show was awe-inspiring, incredible," said Mr. Moody, a real estate company owner. He state he bought his tickets a year ago in anticipation to come. "I spent a thousand dollars on the tickets, [and] brought my children and my parents [who] drove 200 miles to see the show today."
The investment was worth every penny. He overheard his dad saying in the show that "he had never heard anything like it or seen anything like it before. "I'm very pleased. This is the kind of show that everyone should see because it shares the Chinese culture," Mr. Moody said.
As the leading classical Chinese dance company in the world, Shen Yun graces the stage to tell stories of beloved characters, legends and virtues extolled from the various Chinese dynasties, according to its website.
"The symmetry and the choreography of the drummers, that's incredible. My heart was pounding right from the very get go," Mr. Moody said. "The absolute beauty that comes with every dance, every movement. How can that not be inspired by the absolute grace that is brought about by that dance?"
Shen Yun presents 5,000 years of divinely inspired Chinese traditional culture which was almost destroyed of the 60-plus years of the Chinese Communists Party, especially during the time of the Cultural Revolution, as the website explains.
One of the greatest things Mr. Moody stated that he learned was that through the media one "does not get to appreciate the artistry that…[is] experienced here which really relates back to the Chinese heritage and the Chinese people."
"I believe if everyone would see this show, the relations between our two countries would be much better." He stated it is the "kind of art and demonstration of human relations that makes us all part of the human race; it makes us all better neighbors."
Reporting by NTD Television and Cat Rooney. 
Shen Yun Performing Arts, based in New York, tours the world on a mission to revive traditional Chinese culture. Shen Yun Performing Arts Touring Company will be at the Overture Center for the Arts in Madison, Wisconsin, for two performances on April 4 and 5.
For more information, please visit ShenYunPerformingArts.org