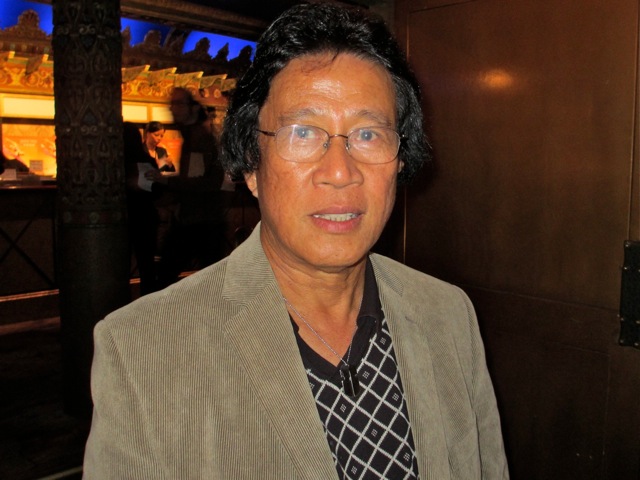 SYDNEY—Architect Jess Bonifacio enjoyed the Shen Yun Performing Arts New York Company's performance at Sydney's Capitol Theatre on Friday evening, May 4.
Mr. Bonifacio is one of the founding Directors of Plandes Company, renamed Plandes Group in 1990 specialising in major building projects.
Based in New York, Shen Yun's mission is to restore 5,000 years of a divinely-inspired Chinese culture that was all but completely demolished after 60 years of Communist rule, especially during the Cultural Revolution.
As an architect, Mr. Bonifacio had to get things in the right perspective and pondered on mankind's spiritual connection to the Divine by his understanding.
"It's more like Heaven and Earth," he said, " I think the message is that everyone comes from Heaven and you just have to live a good life on earth—that is probably what it is.
"Well, I believe differently. In my religion, we all try to go to Heaven from Earth. But what I saw in the singing [the songs' lyrics projected on the backdrop] was that we start from heaven and come down to earth and live a good life on earth."
The fundamental characteristic of Shen Yun vocalists is their use of bel canto-style operatic singing whilst singing Chinese lyrics. The lyrics are all brimming with philosophical reflection about human life and deep layers of meaning, according to the company's website.
Mr. Bonifacio was captivated by the singing because he liked opera, he said.
But it was the final act that intrigued Mr. Bonifacio most, Before Disaster, The Divine Is Rescuing.
Followers of Falun Dafa are doing exercises in a park when the police arrive. When all seems lost, the Lord Buddha intervenes to save the Earth. The good are spared disaster. Heaven's gates proceed to open, and the divine return to their posts, according to the company's website.
"I read that they [Falun Dafa followers] are persecuted in China because of some kind of [spiritual] belief," said Mr. Bonifacio. "They [the emcees] were saying that it cannot be shown in China," he added.
Shen Yun was created in New York in 2006. The company now boasts three companies performing in more than 100 cities on four continents, Europe, Asia, North America and Oceania, which ends here on Sunday, May 6.
More companies are in the pipeline for the coming years.
Reporting by Luke Hughes and Ron Champagne.
Shen Yun Performing Arts, based in New York, has three touring companies that perform simultaneously around the world, with a mission to revive traditional Chinese culture.
Shen Yun Performing Arts New York Company will perform at Sydney's Capitol Theatre through May 6.
For more information visit ShenYunPerformingArts.org