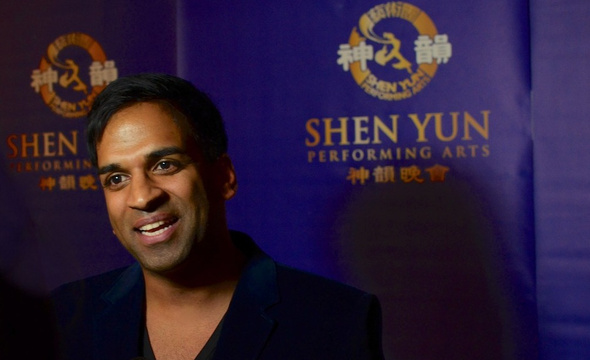 BERLIN—Ms. Angelika Hansen, an attorney, and her husband, an investment adviser, attended the Opening Night performance of Shen Yun Performing Arts at the Internationales Congress Centrum (ICC) Berlin, on Friday, March 16.
Ms. Hansen found the performance by the New York-based classical Chinese dance and music company to have deep inner content. She said, "When evil battles the good, the other worldly appears and gives the young man strength. I took this as an allegory. … the performers represented this thought beautifully."
This year's Shen Yun performance line-up includes a theme of "good versus evil," as pointed out by the emcees, from ancient Chinese legends to stories of current events in China.
"Classical Chinese dance is grounded in 5,000 years of divinely inspired culture, and is a dance art form built upon a deep foundation of traditional aesthetics. Classical Chinese dance is rich with expressive power," states the company's website.
Ms. Hansen commented that "the movements depicted deeply the feeling of the artists."
"We saw good and evil, but in the end, goodness always triumphs. … That type of situation can be seen in any picture that depicts good and evil. The positive always shines through."
The couple were impressed by the visual aspect of Shen Yun. Ms. Hansen said: "The colors are exceptional. We generally only see Chinese pictures that are black and white or gray … But, today, the colors were surprising and they weren't overstated."
"Animated backdrops transport the audience to another world. Projected behind the dancers, the hi-tech images lift the stage and set it amidst blossoming landscapes, deep forests, Mongolian prairies, or celestial paradises," describes the website.
"As for the backdrop, the technique of that, just fantastic … The harmony between music, backdrop and choreography are exceptional," Ms. Hansen said.
"It was astounding to see someone appear out of the backdrop and then disappear the same way. That was done so successfully," she added.
Mr. Hansen suggested that the depiction of good and evil that he saw in the performance inspires people to think positively.
"It is well done that Shen Yun brings out positive thinking. Why should one keep evil thoughts? Being good is much more important. By thinking good thoughts, one will walk a successful path," he said.
Reporting by Wen Jing
Shen Yun Performing Arts, based in New York, tours the world on a mission to revive traditional Chinese culture. Shen Yun Performing Arts International Company will give two more performances in Berlin on March 17 and 18, and then perform in Zurich, Switzerland, from March 23-26.
For more information visit ShenYunPerformingArts.org