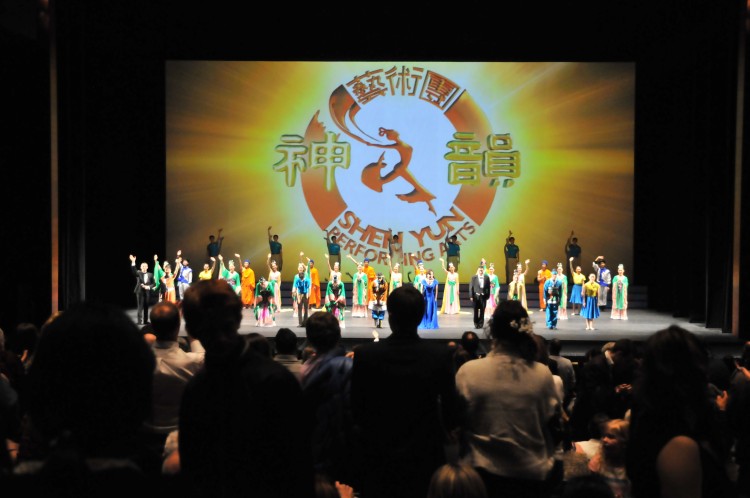 Shen Yun Performing Arts made its return to the Prairies with a full-house opening show at Calgary's Southern Alberta Jubilee Auditorium on Easter Sunday afternoon.
For the sixth year in a row, the New York-based classical Chinese dance and music company drew the admiration of audience members with its depiction of traditional Chinese culture portrayed through music and dance.
In the words of Calgary Centre MP Lee Richardson, who attended the show on Sunday, Shen Yun gave "a wonderful sense of the history of Chinese culture."
"It's so vast and broad and there's so much to it. It all comes together in such a wonderful way. It's hard to describe. It's quite overwhelming," Mr. Richardson said.
Calgary Alderman Gael MacLeod, who praised the "colours, the talent, and the movement" in the performance, was also struck by how the various pieces came together to depict China's rich history and culture.
"Every piece plays a part in the whole picture," she said. "There is so much history there, you can see it in the dance, you can see the way it comes together."
Brother and sister performing artists Christopher and Natasha Barran noted the amount of hard work and talent that it takes to put on the show the calibre of Shen Yun.
"I don't believe it gets better than that," Mr. Barran said.
Pointing to the hundreds of colourful hand-made costumes in the show, Ms. Barran said "every time a different costume came on, I was like, 'Oh my God, I want that just to hang on my wall' and then another one would come on."
Business tycoon and philanthropist Mr. Balm, who described the show as "fantastic," was particularly captivated by the use of the animated backdrops in the performance.
"The interaction with the background and the dancers was very interesting. I really enjoyed it," he said.
Veteran dancer Alexis Derosier, who used to dance with the Alberta Ballet, said she was highly impressed by the classical Chinese dance presented by Shen Yun.
"Comparing their techniques [with] what I learned, it seems a lot more full-ranged. It's very, very different from Western dance, but wow, it looks almost a little more technically complicated than the one I'm used to. It's unreal," she said.
According to the Shen Yun website, classical Chinese dance—an art form thousands of years old—is rich with expressive power. "[A]longside ballet, classical Chinese dance is one of the most comprehensive dance systems in the world," the website says.
Dennis Cooper, mayor of Penhold, Alberta, and CEO of the Sky Wings Aviation Academy, said the stories told through the performance were quite moving. He also said he was "so surprised" by the powerful voices of the soloists.
"It's just simply amazing to me to be able to have that control of voice in pitch, it's just a rarity, and we're very pleased that we had a chance to hear the performance," Mr. Cooper said.
Shen Yun staged two performances in Edmonton's Northern Alberta Jubilee Auditorium on Tuesday and Wednesday, both to full houses and standing ovations.
"This is a very impressive show," Edmonton-St. Albert MP Brent Rathgeber said after the Tuesday evening performance.
"I think it's fantastic, the choreography, the costumes, and the dancing, it's very, very exciting."
Mr. Braucht, director and VP of a mining company with worldwide operations, thought that everyone should come and watch Shen Yun.
"It is amazing, we totally enjoyed it," he said.
Shen Yun Performing Arts will conclude its prairies run with a performance at Regina's Conexus Arts Centre on Friday, April 13.
For more information, visit ShenYunPerformingArts.org.