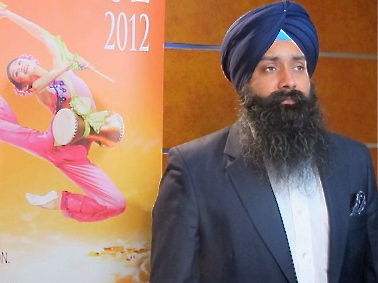 SYDNEY—Shen Yun Performing Arts New York Company continues to stun audiences at Sydney's iconic Capitol Theatre.
Chairman of GOPIO, (Global Organisation of People of Indian Origin), Australia Chapter, Dr. Jagvinder Singh Virk was seeing Shen Yun for the second year in a row on Friday April 28.
Dr. Singh Virk noted that this year many of the theatregoers comprised "faces from ethnic communities."
New York-based Shen Yun, one of three performing arts companies touring in more than 100 cities on four continents, has a mission to revive China's five millennia, divinely bestowed heritage, desecrated in the past six decades of communist rule.
Classical Chinese dance is at the heart of the performance, together with ethnic dance, music and song taken from ancient legends, folktales to contemporary stories of present day China.
The performers, many distinguished in their fields, have a belief that just mastering the surface of art is not enough, so they take the wisdom and values of traditional Chinese culture as part of their lives. The artists cultivate virtue because they feel that to create art worthy of the Divine, there first must be inner beauty and purity, according to the company website.
Dr. Singh Virk, himself a descendant of an ancient culture, appreciated the spirituality in the presentation.
"We are from India … but we talk the same language about God [the Divine] … it's the same message," he said.
'Love the flowingness'

Also in the audience were Jill and Kim Bailey, former ballroom dancers, who were given tickets as a gift to see Shen Yun's renowned presentation.
The couple used to dance competitively in a ballroom capacity years ago, Ms. Bailey said.
"Oh, it's just so beautiful what we're watching now, it's just so delicate and the costumes are beautiful. I love the flowingness and the softness of the performance," she said.
Reporting by NTD Television, Dan Granger and Raiatea Tahana-Reese.
Shen Yun Performing Arts, based in New York, has three touring companies that perform simultaneously around the world, with a mission to revive traditional Chinese culture.

Shen Yun Performing Arts New York Company will perform at Sydney's Capitol Theatre through May 6.
For more information visit ShenYunPerformingArts.org