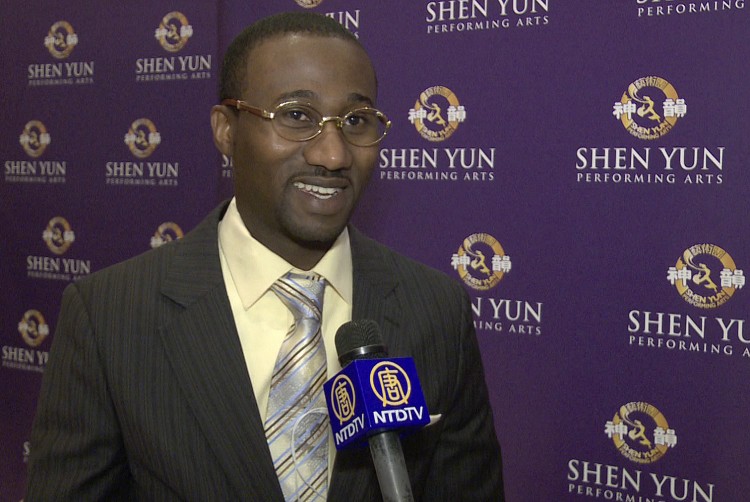 NEW YORK—Ashton Williams, a freelance journalist, was enamored with the Shen Yun Performing Arts at Lincoln Center's David H. Koch Theater on Sunday.
"I love the show—it is beautiful," he said. "I enjoy every bit of the show. It has a lot of energy."
Mr. Williams said that the performance did well in sharing Chinese culture with the rest of the world. "I think a lot more young people should get more involved in coming to these kind of events to learn more about the Chinese culture," he said.
New York-based Shen Yun seeks to revive traditional Chinese culture, which was nearly destroyed under 60 years on communist rule, through performing arts and music, says its website.
"China has such a long history of such a strong culture and where they came from to now," said Mr. Williams. "Being how their culture was destroyed, and with Western civilization trying to influence China into a different revolution, a lot of young people now need to try to get more involved into their culture so they can have an understanding of where it came from from that time to now."
Mr. Williams noted that being in the show "is like reliving that [cultural] experience again."
Shen Yun primarily uses classical Chinese dance to convey its message, the company says. The dance system is among the most comprehensive in the world and requires much practice to master the postures, movements, and different underlying techniques. The dancers are adorned with colorful, handmade garments and accompanied by a unique orchestra, digital backdrops, and award-winning vocalists.
Shen Yun draws heavily upon legends and stories passed down in ancient China and conveys the country's spirituality, which was influenced by Buddhism, Taoism, and Confucianism, the company says.
"I have a little more understanding exactly what those people used to go through from that time until now," Mr. Williams said. "I hope [Shen Yun] keep[s] up the good work."

Reporting by NTD Television and Jack Phillips.
Shen Yun Performing Arts, based in New York, has three touring companies that perform simultaneously around the world, with a mission to revive traditional Chinese culture. Upcoming performances in the United States include Chattanooga, Tennessee, on April 24, and Columbus, Ohio, on April 26 and April 27.
For more information, visit ShenYunPerformingArts.org.