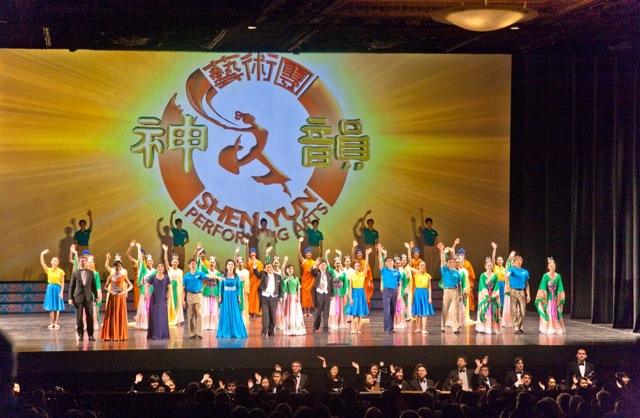 SYDNEY—Retired heart surgeon David Horton said Shen Yun Performing Arts gave an "absolutely stunning" performance, which gave him hope that traditional Chinese culture would be expressed more freely in the near future.
Dr. Horton was speaking after Saturday night's, April 28, performance at the Capitol Theatre, where Shen Yun Performing Arts New York Company completed its third show since arriving in Sydney, Australia, this week.
Dr. Horton said: "I think it's absolutely stunning—the skill of the dancers and I think that the message that they are putting across as well, of Chinese culture and the purity of Chinese culture and to an extent the contrast between that and the sort of culture that exists under the present regime in China."
New York-based Shen Yun aims to revive 5,000 years of Chinese culture, through classical Chinese dance, folk dance from different ethnic groups in China, and music.
Although Shen Yun is a performance of classical Chinese dance and music, and despite performing in over 100 cities in Asia, Europe and North America, Shen Yun cannot be seen in today's China, where the Communist Party has worked for decades to destroy traditional culture. Chinese Embassy staff have tried to stop the company performing in various countries and pressured government officials of those countries not to attend.
Dr. Horton noted the underlying values of the traditional Chinese culture displayed by the Shen Yun performance and the contrast that Chinese people experience in today's China.
"I think it [traditional Chinese culture] shows the integrity, the loyalty of people, reliability and a community spirit. So I think there are all sorts of values we revere, which I think people will apply forever and revere if they ever get the chance to express them," he said.
The Shen Yun performance "has a sense of freedom about it," he added. "Obviously a regime in China has a sense of tyranny, if I may say so."
He said he liked the themes that came out of The Choice, a dance that tells the story of two good friends, one who becomes a Falun Gong practitioner, and the other who becomes a policeman. The policeman is faced with a dilemma when his official duty demands he arrest his old friend.
"I think it showed it very clearly that you've got the forces of good and evil, and I think in that particular sketch the forces of good prevailed, so I think there is a message coming through here," Dr. Horton said.
He said modern China faced a lot of problems under the ruling regime, and the show left him inspired that things would one day change for the Chinese people.
"Recent political events in China have shown how much corruption there is unfortunately, and an immense disparity between the rich and the poor," Dr. Horton said.
"I feel inspired actually. I feel inspired. I feel very hopeful for the Chinese people, they are an ancient [nation] with immense depth of culture, but one of these days, to be able to express themselves much more freely than they do now and be a much better nation for it."
Reporting by Luke Hughes and Ethan Yang.
Shen Yun Performing Arts, based in New York, has three touring companies that perform simultaneously around the world, with a mission to revive traditional Chinese culture. Shen Yun Performing Arts New York Company will perform at Sydney's Capitol Theatre through May 6.
For more information visit ShenYunPerformingArts.org