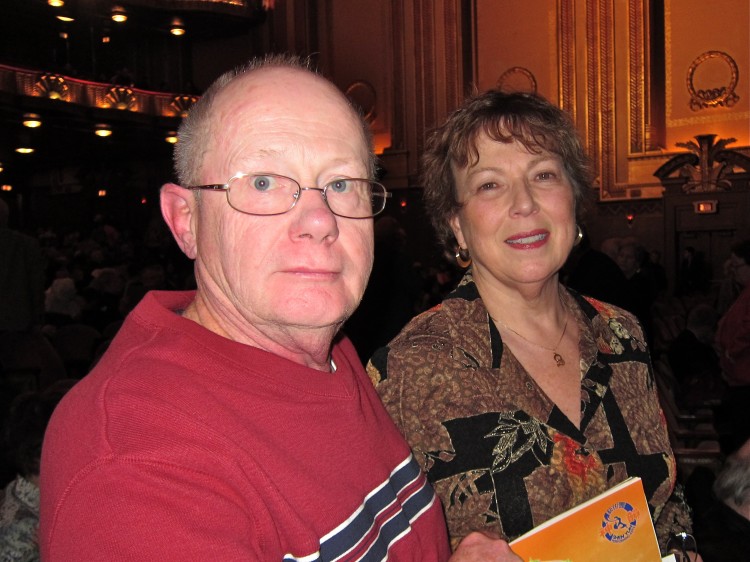 CHICAGO—Despite sitting in a fully-packed auditorium of over 2,500 people, a retired banker in Chicago said she felt calmness while seeing Shen Yun Performing Arts, at Chicago's Civic Opera House, on Saturday April 21.
Barbara Moore, reflecting about her feelings about the show, said watching it made her forget the things she worried about.
"I have to tell you, I have calmed down. All of a sudden I realized I have forgotten everything that I was worrying about before I got here, " Ms. Moore said.
The 2 p.m. show on April 21, the third of five shows of Shen Yun Performing Arts in Chicago this season, was completely sold out.
Ms. Moore kept saying she enjoyed the show and that it was very beautiful.
"The women are so soft, beautiful, and they are very graceful … Oh I love the costuming," she said, adding that she really liked the ethereal part of the show.
Shen Yun's state-of-the-art costumes have won praises from artists and designers around the world. Besides their exquisite color combinations, the costumes are designed in such a way that they form an integral part of the choreography. They often form kaleidoscopic patterns through the dancers' movements.
William Pulling, a friend of Ms. Moore and a retired senior technician of a computer company from Round Lake, Illinois, said the Shen Yun show was excellent and very entertaining. He especially liked the storytelling part.
"The dancers really depict what the story was about. [From the dancing] I was able to relate what the narrators said the dance was about," Mr. Pulling said.
The show has given Ms. Moore an entirely new impression of Chinese dance.
"It's just interesting … I never think of Chinese dancing in the way I am seeing it right now … It's very beautiful, very beautiful."
Ms. Moore said she would recommend the show to everybody she sees because she thinks it's very good.
Reporting by Valerie Avore and Maria Chow.
Shen Yun Performing Arts, based in New York, has three touring companies that perform simultaneously around the world, with a mission to revive traditional Chinese culture. Shen Yun Performing Arts International Company will perform in Chicago through April 22.
For more information visit ShenYunPerformingArts.org