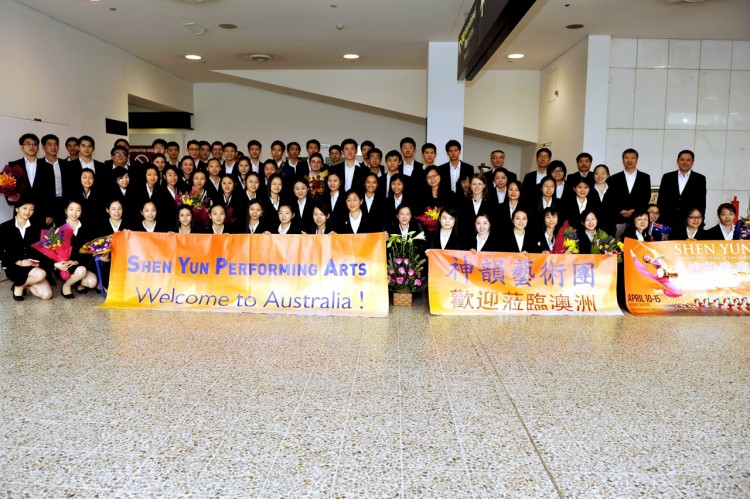 MELBOURNE—Shen Yun Performing Arts New York Company arrived in Melbourne, Australia, April 10, direct from sold-out performances in seven Taiwanese cities.
A New York-based performing arts company, Shen Yun is dedicated to the revival of the 5,000-year-old traditional, divinely-inspired Chinese culture and presents classical Chinese dance, music and song, short stories depicting Chinese myths and history, and ethnic and folk dance. Each year the company presents an all-new program.
Shen Yun premieres its Australian leg of the 2012 World Tour at the Regent Theatre, Melbourne, on Wednesday April 11.
Shen Yun tours with a live orchestra, which combines classical Western and traditional Chinese instruments.
Conductor Ms. Ying Chen spoke to The Epoch Times, at the airport, on the company's arrival in Melbourne. This is Ms. Chen's second visit to Australia. She said she was very happy to be performing in Australia and loves the Australian audiences.
"I felt the audience not only appreciated the auditory and visual beauty of the show, they also understand the deeper meaning of the show and the Chinese culture," Ms. Chen said.
Referring to the Taiwan performances just completed, she said, "We were very happy to see Shen Yun receive excellent feedback from our audiences."
People who have seen Shen Yun before "will find many surprises" in this year's performance, she said. And those who have never seen Shen Yun, "he or she will be very touched."
"So I really hope people don't miss the shows in Australia, as we'd like to bring this beautiful performance to the [Australian] audiences," she added.
Also with the company is Jared Madsen, one of the Masters of Ceremonies, who has been on three previous Shen Yun tours to Australia. Mr. Madsen said he really enjoyed being in Australia and felt that Australians would really appreciate this year's Shen Yun performance.
"I really love the energy of the people," he said about the Australian audiences. "We have some interesting ethnic dances and some really interesting story dances this year."
Tickets are still available for most performances, book online at ShenYunPerformingArts.org
Reporting by Jade Xiao and Leigh Smith.
Shen Yun Performing Arts, based in New York, tours the world on a mission to revive traditional Chinese culture. Shen Yun Performing Arts New York Company will perform in Melbourne, Canberra, Sydney and New Zealand.
For more information visit ShenYunPerformingArts.org