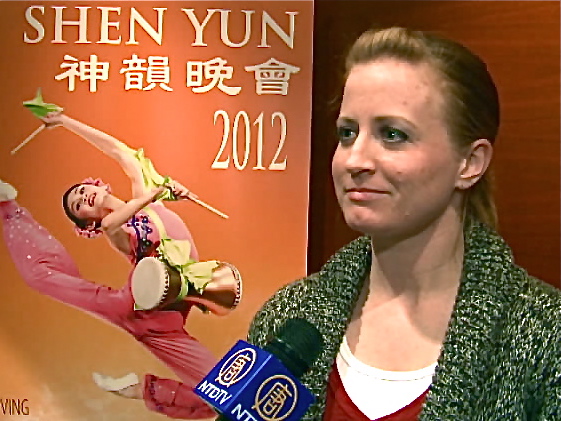 EDMONTON, Canada—Dancer and choreographer Michelle Heusser was awe-struck after taking in Shen Yun Performing Arts at the Northern Alberta Jubilee Auditorium on Wednesday April 11.
"It's fabulous. Absolutely beautiful! The costumes and the choreography, the formations, and the techniques; just beautiful, absolutely beautiful," she said.
Formed in 2006, New York-based Shen Yun Performing Arts presents classical Chinese dance and music to audiences around the globe. According to Shen Yun's website, classical Chinese dance is an art-form thousands of years old, and over the years it has absorbed "profound wisdom from every era and dynasty," becoming a "complete system of dance embodying traditional aesthetic principles with its unique dance movements, rhythms, and inner meaning."
Ms. Heusser, who has trained in different types of dance since childhood including ballet, jazz, tap, and lyrical, said she found classical Chinese dance presented by Shen Yun to be a "gorgeous art form."
"Very structured, very beautiful," she said.
Praising the talent of the performers, Ms. Heusser said the techniques in the performance were "just flawless, just very strong."
As a choreographer herself, she was also impressed by the choreography in the different dance pieces.
"Beautiful formation changes … just a lot of thought, a lot of hard work and dedication has obviously … gone in this show," she said.
The use of the animated digital backdrops throughout the show also stood out for Ms. Heusser.
"For example, using the backdrops, and being able to have them [performers] jump off the back [backdrop], and then have the backdrop engage the audience like that so much, that's very creative," Ms. Heusser said.
Calling the show "inspirational" for her own choreography work, she said Shen Yun's performance is "breathtaking," and keeps the audience engaged through the entire show.
With files from NTD Television.
Shen Yun Performing Arts has three equally large companies touring the world. Shen Yun Performing Arts Touring Company will next travel to Regina to stage one performance at the Conexus Arts Centre on Friday Apr. 13.
For more information, visit ShenYunPerformingArts.org.