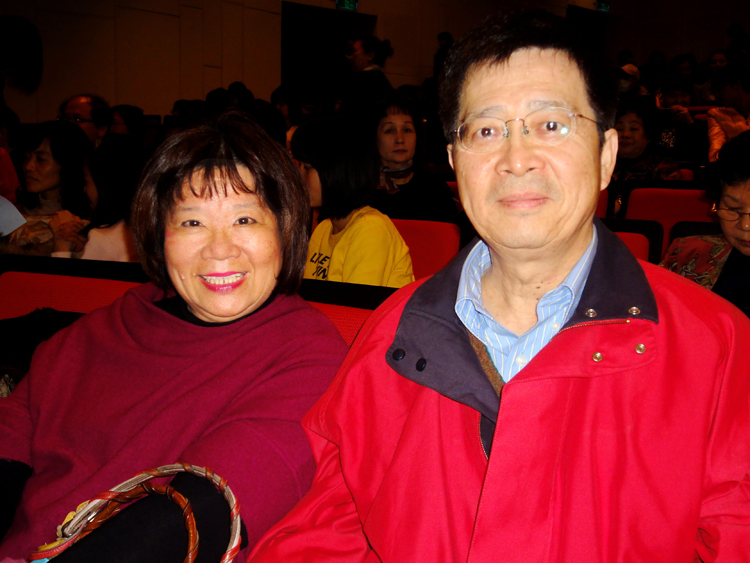 TAINAN, Taiwan—The performance by Shen Yun Performing Arts New York Company on March 11 marked the culmination of a 5-day buzz at Tainan Municipal Cultural Center Auditorium. Locals of all ages came in large numbers to see the performance that has been labeled as the best in the world. Among them was Mao-Bin Wang, deputy manager of marketing at China Steel, and his wife. "It is a mind-blowing [performance] with profound meaning. A visual treat for sure," he said. "Every single program is nicely done."
Shen Yun's state-of-the-art animated backdrops create vividly animated settings, extending the stage and transporting the audience to a world where heaven and earth are one, says the company's website.
"The combination of the backdrop and the performers onstage was quite ingenious. This was truly unbelievable," Mr. Wang said.
Mrs. Wang joined in and said how "wonderfully done and quite humorous" the program Joyful Little Monks was.
In this program, on a bright morning in a secluded monastery, apprentice monks gather to tidy up the temple with brooms, basins, and washcloths. Eager to do well, they put their hearts into their work–with fun and humorous results, describes the program booklet.
Mr. Wang praised the coordination of the live orchestra and the dancing, which he said was deeply moving and enchantingly beautiful. He said, "The entire production was superb."
The company's unique story-based dances feature the lessons and values of 5,000 years of traditional Chinese culture. Mr. Wang said: "All of us have read these stories when we were little. It must be especially memorable for any Chinese person. Now, when these cherished childhood memories became reality on stage, it is truly wonderful."
He added: "Through music, dance and stories, Shen Yun is reviving the morality of people. It is simply splendid when a cultural event is combined with moral teachings."
Mrs. Wang said enthusiastically, "I think this was very good, very impressive. The dancing and the costumes were both exquisite. There are simply no other performing arts companies like Shen Yun. I truly, truly like it. It was so wonderful."
Mr. and Mrs. Wang said that they will definitely recommend the show to their family and friends.
Reporting by Lie Wang and Frank Fang
Shen Yun Performing Arts, based in New York, tours the world on a mission to revive traditional Chinese culture. Shen Yun Performing Arts New York Company will perform in seven cities in Taiwan until April 8 and then continue to top venues in Australia and New Zealand.
For more information visit ShenYunPerformingArts.org
Read the original Chinese article