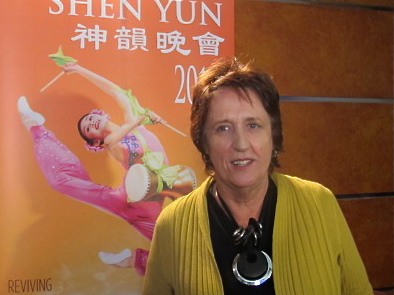 SYDNEY—Pam Morpeth, a manager at Sydney's Macquarie University, said Shen Yun was a visual extravaganza, the likes of which she had never seen before.
Ms. Morpeth was speaking at interval during Sunday's matinee performance at Sydney's Capitol Theatre, by the Shen Yun Performing Arts New York Company.
"I have never seen anything like it, it's such an extravaganza," Ms. Morpeth said. "The dancing is superb, the movement and everything. It's just flawless, they leap up with no trouble at all, I'm just stunned."
Ms. Morpeth is the Academic and External Outreach Co-ordinator and Manager for the Labour-Management Studies Foundation at Macquarie University's Department of Marketing and Management.
The New York Company is one of three Shen Yun companies simultaneously touring the world, together with full orchestras that combine Chinese and Western instruments. They perform in front of vibrant digital backdrops, with the aim of using classical Chinese dance to revive 5,000 years of Chinese culture.
Ms. Morpeth said she particularly liked the dance movement Lotus Leaves, where celestial maidens dance atop the water, with unique full-circle fans that sway like lily pads in the wind, says the program book.
She also liked Joyful Little Monks, a humorous dance where young apprentice monks in a secluded monastery play up while cleaning.
She said Shen Yun had a "spiritual quality" which she liked. "I feel at peace watching the whole thing," Ms. Morpeth said.
"I am loving the show, it is superb, the costumes, the dancing, the whole choreography, just amazing, absolutely amazing."
Reporting by NTD Television and Ethan Yang.
Shen Yun Performing Arts, based in New York, tours the world on a mission to revive traditional Chinese culture. Shen Yun Performing Arts New York Company will be in Sydney Australia through May 6.
For more information, visit ShenYunPerformingArts.org.