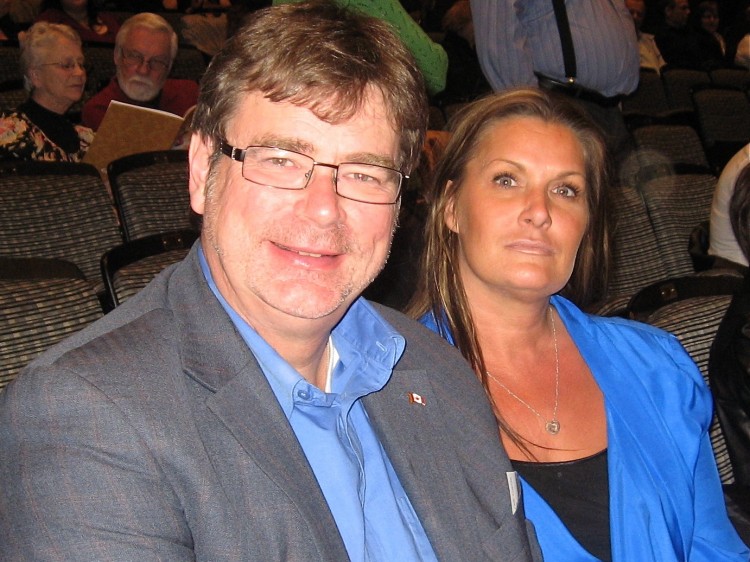 EDMONTON, Canada—Shen Yun Performing Arts concluded its opening performance in Edmonton's Northern Alberta Jubilee Auditorium on Tuesday evening, April 10, to an appreciative audience that thanked the performers with a standing ovation.
Brent Rathgeber, MP for Edmonton—St. Albert, missed the production last year and was glad to make it this year.
"This is a very impressive show," Mr. Rathgeber said, who tweeted "Is at Shen Yun Performing Arts—Chinese dance, song and culture. Great Show!!" while he was at the Jubilee.
Mr. Rathgeber is a member of the House of Commons Standing Committees on Justice and Human Rights, as well as Public Safety and National Security. He is also the chair of Parliamentary Friends of Falun Gong.
"I think it's fantastic, the choreography, the costumes, and the dancing, it's very, very exciting," Mr. Rathgeber said about Shen Yun.
New York-based Shen Yun presents classical Chinese music and dance. In a collection of short pieces, the program takes audiences to different regions of China and different historical eras within the country's 5,000-year history, while presenting through the dances ancient legends as well as scenes from modern-day China.
Shen Yun also features an orchestra that combines classical Western and traditional Chinese instruments, and masterful vocalists who sing in Chinese in the bel canto style.
Mr. Rathgeber was dazzled by the musical performances.
"Just tremendous vocal talent, and I'm glad they have the words on the screen so I can follow. Very, very talented, just a first-class production, just a great show," he said.
Knowing about the persecution of the spiritual meditation practice Falun Dafa in today's China, Mr. Rathgeber said he particularly enjoyed one of the pieces that depicted this topic.
"I really enjoyed that piece," Mr. Rathgeber said.
"It's a cause that has … become quite important to me, the plight of the Falun Gong in China, and I thought that piece was very well-done and told a very interesting but tragic story, and then at the end, good ultimately triumphed over evil," he noted.
The piece, titled The Choice, tells the story of two close friends, a young man and woman, separated by circumstance as he is recruited by the Chinese police.
She later meets a group of Falun Dafa followers and adopts their belief after being inspired by their practice of truthfulness, compassion, and tolerance.
But when the practice is outlawed, she comes face to face with her old friend in Tiananmen Square where the followers are protesting, says the program booklet.
"I think that's inspirational, because … the practitioners of the meditation face severe persecution … frequently death and organ harvesting, it's a very, very tragic situation," said Mr. Rathgeber.
"But in the story that was told, ultimately good will triumph over evil, and ultimately Falun Dafa will be able to survive, and I hope that it comes true and it comes true soon."
Calling the performance "a celebration of traditional Chinese culture," Mr. Rathgeber said Shen Yun presents a chance for people in Canada's multicultural society to get exposure to the Eastern culture.
"I think all of us that are attending will get a good appreciation of Chinese culture," he said.
Reporting by Maple Lynne and Omid Ghoreishi.
Shen Yun Performing Arts has three equally large companies touring the world. Shen Yun Performing Arts Touring Company will stage one more performance at the Northern Alberta Jubilee Auditorium in Edmonton on Wednesday Apr. 11 before moving on to perform in Regina on Apr. 13.
For more information, visit ShenYunPerformingArts.org.