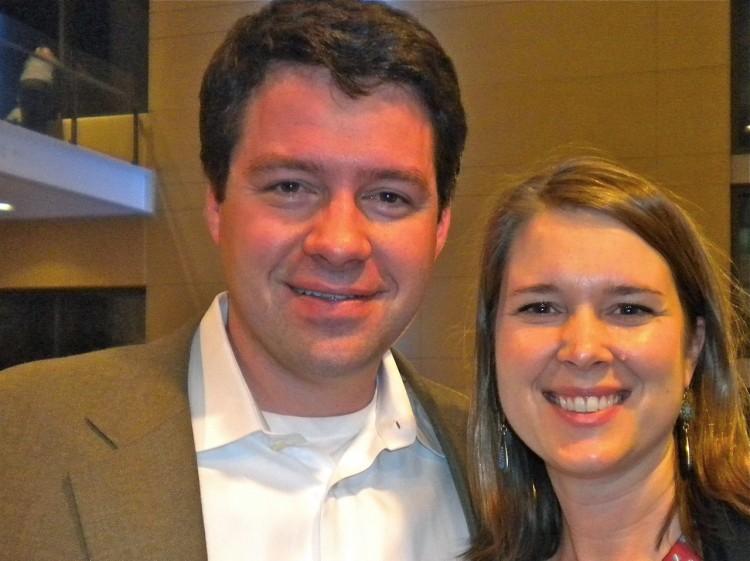 MEMPHIS, Tenn.—In the sparkling, dramatic, three-story lobby of the Cannon Performing Arts Center, a married couple, who are parents, enjoyed a night out with each other on March 7, watching world-renowned Shen Yun Performing Arts. Richard Bomar is a manager, and his wife Shannon Bomar is in finance, he said. The daughter of Mr. Bomar's colleague is in Shen Yun New York Company, now touring Europe, and he thought, "You have to go and check it out—so we did."
Shen Yun Performing Arts, based in New York, is the world's premier classical Chinese dance and music company. Formed in 2006, the company now has three touring companies that perform simultaneously around the world, and consists of the world's top overseas Chinese performing artists, who seek to revive traditional Chinese culture and art forms.
Mr. and Mrs. Bomar were glad they came to the performance. It was "fabulous," said Mrs. Bomar.
Mr. Bomar said he agreed with her assessment. "Yes. I think the dancing is incredible and the discipline, the flexibility, the costumes; you know there is a lot of flair," he said.
As so many people do, Mrs. Bomar said she was struck by the beauty of the costumes, and the skill and precision of the dancers.
According to the Shen Yun website, "Shen Yun's costume artists collect countless designs of traditional attire, ranging from those of emperors, ministers, and generals to the everyday clothing of the common people. They use bright colors to tailor and recreate hundreds of new pieces each season."
Mrs. Bomar said, "I think the costumes was the thing that jumped out at me, and like he said [referring to her husband], just the discipline, you could tell the discipline in that dancing."
Mr. Bomar said the artists were doing a "great job; we've enjoyed it thoroughly."
New York-based Shen Yun Performing Arts has three touring companies that perform simultaneously around the world. Shen Yun Performing Arts Touring Company will be at the Orpheum Theatre, Minneapolis, for three performances, March 9 to 11.
For more information, please visit ShenYunPerformingArts.org.