Dog shelters across the United States are teeming with loveable canines that are waiting for someone to give them a forever home. In most cases, it's the dog that awaits its new owner. But for one poochie, it was quite the opposite. He managed to find and paw-select his owner.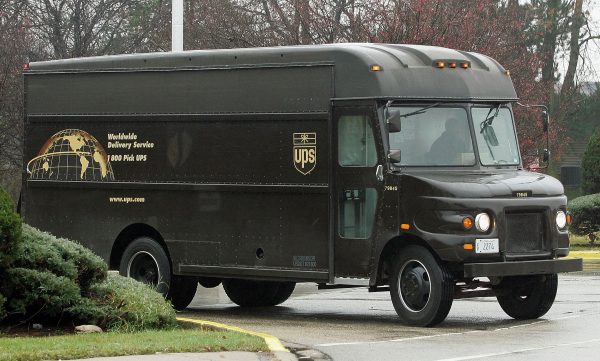 Jason Coronado, a UPS driver in New York, was out delivering packages on Oct. 5, 2018, when Ernie, a pitbull-terrier mix, literally jumped into his life.
Cindy Grisanti, a volunteer dog walker at the City of Buffalo Animal Shelter, had taken Ernie out for a stroll when they noticed Coronado's van parked by the roadside.
When Coronado called him into the truck, Ernie jumped right into the vehicle. Coronado told The Dodo, "He was over the hills excited to see me, so I called him on up [into the cabin]."
The chance encounter was all that was needed, and thus the dog and deliveryman were strangers no more.
"He hopped up and just sat there and did not want to leave," he told WKBW.
"[Coronado] sat on the steps of the truck and Ernie sidled right up to him and started licking his face," Grisanti told The Dodo.
It took quite a bit of prodding to get Ernie out of the vehicle. He had grown so fond of the UPS driver.
Even after the dog and driver had parted ways, Coronado simply couldn't get the pooch out of his mind.
Nearly a month after the encounter, he learned from a social media post that the dog had yet to be adopted. This got Coronado thinking about bringing Ernie into his own home.
"I was sad to hear he was still there," Coronado said. After giving it some thought and consulting with his family, he decided to bring Ernie home.
"He is very joyful," Coronado said. "I'm upset I didn't take him home earlier."
Coronado ended up adopting the dog in November 2018. The two have been inseparable ever since, and Ernie follows him all over the house.
"He likes to sleep and lounge and he likes to eat treats and he's just a big lap dog," Coronado told WKBW.
Folks at the animal shelter couldn't be happier. Grisanti commented, "It's these happy endings this [sic] keep us going and doing what we do."
People across social media were clearly touched, with one user writing on Facebook: "This story melted my heart. Thank you and your family for welcoming this sweet boy onto your home."
Another user said: "I love that you guys adopted him. I'm super happy for everyone especially Ernie."
This story is proof of how even a brief encounter can change our lives forever. It was also a case where the dog found its owner rather than the other way around.
Ernie was able to leave a lasting impression on Coronado that day, which made the latter realize that he deserved more than the life in a shelter.