Shayanna Jenkins, Aaron Hernandez Fiancee, Indicted for Perjury in Odin Lloyd Case
September 27, 2013 2:01 pm Last Updated: July 18, 2015 5:18 pm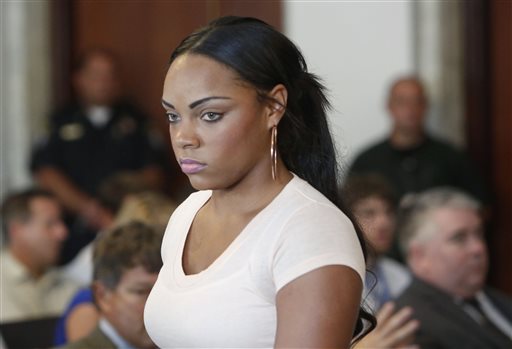 Shayanna Jenkins, the fiancee of former NFL star Aaron Hernandez, was indicted by a grand jury for perjury in the Odin Lloyd case.
WBZ in Boston reported that the indictment was handed down on Friday.
Tanya Singleton, the cousin of Hernandez, was also arrested in connection with Lloyd's death, according to The Associated Press. She was indicted for conspiracy to accessory for murder after the fact.
Officials said that Singleton drove with another person in connection with the case.
Jenkins is accused of lying when she testified in front of a jury. She currently is not in custody, but will be summoned to be arraigned, the Hartford Courant reported.
Earlier on Friday, Hernandez associate Carlos Ortiz was also indicted. He was charged as an accessory to murder after the fact.
Hernandez was indicted Aug. 22 for the murder of associate Lloyd. He is currently being investigated by federal authorities for two other murders in the Boston area and Florida.
He was released by the Patriots on June 26.
Hernandez, 23, has been dating Jenkins since 2007. They have a daughter together, who is less than a year old