SPONSORED CONTENT
if you have ever wondered how other nations perceive Taiwan's resources for tourism, you are in for some exciting news: Earlier in June, the Georgia Straight (the largest news and entertainment publisher in Western Canada) lauded Taiwan for the progress she has made towards becoming a Bicycle Kingdom and noted "[f]or years, the Netherlands and Denmark have become a mecca for cycling tourists, but now these European stalwarts face some new competition from Taiwan."
The article also quoted CNN Travel, which named the Sun Moon Lake area as one of the world's 10 most breathtaking cycling routes. Not only that, Taiwan's renowned Taroko Gorge route, which goes up 3,275 meters over a 105-kilometer area, has been ranked as one of the top 10 most difficult routes in the world by the French magazine Le Cycle.
The article also mentioned that Zachary Bell, who is one of Canada's Olympic cyclists, also endorsed cycling in Taiwan by recounting his participation in an eight-day race along the west coast of Taiwan in Feb 2013. Bell said he fell deeply in love with the route that was chosen and the beautiful scenery he had witnessed along the way.
Meanwhile, Vancouver councilor Kerry Jang also said that he enjoyed cycling during a trip with his wife to Taiwan last September and remarked that bike lanes in Taiwan were exceptionally designed for someone like himself, who doesn't cycle much at all.
In the past decade, the Taiwanese government has invested more than US$ 1 billion in strengthening the bicycle routes. Presently there are a total of 80 bicycle routes across Taiwan, running at a total distance of more than 3,000 kilometers.
Gripfast – the pride of Taiwan that kick-starts the cycle of good in Taiwan
In addition to the bicycle routes and cycling tourism resources that have been receiving more international attention over the years, Taiwan's innovative R&D for bicycle parts and components has also been at the world's leading edge. Gripfast – the stem shock absorber that offers exceptional safety and shock dampening performance — has stood up to EU's stringent 100,000 vibration cycle test and won the Award for Innovative Design at the 2012 Taipei International Cycling Show.
According to Extraordinary Microscience, the local distributor for Gripfast, a foreign buyer confessed to the company during the 2013 show that he had previously purchased the product with the intention of duplicating it but after three years of effort, his attempts were in vain. This reflects the degree of sophistication and ingenuity involved in the design of Gripfast.
In contrast with traditional fork shock absorbers that usually require anywhere between 55mm~140mm of travel for operation, the innovative Gripfast requires as little as 14mm. The device effectively prevents dramatic changes to the center of gravity of a bicycle in motion when the brake is applied, thereby reducing the likelihood of the vehicle toppling over.
Gripfast not only significantly reduces the discomfort from numbness or soreness that cyclists experience, but also enables cyclists to install the device on their own. It is easy to maintain (it only requires slight lubrication) without involving disassembly. 
Just as Taiwan's cycling tourism resources have gotten more international exposure, Kuo Min-Huang, President of Extraordinary Microscience, also hopes that this MIT, the innovative stem shock absorber that promises to improve riding experience by offering greater comfort, can enjoy worldwide success, benefit recreational cyclists, and become the next "Pride of Taiwan". 
Jumping on the bandwagon of cycling, "We hope to deliver the finest products that Taiwan has to offer to the rest of the world while bringing in outstanding products from other countries to Taiwan, thus creating a 'cycle of good'!" aptly summarizes the common goal that Kuo and his colleagues at EOM share.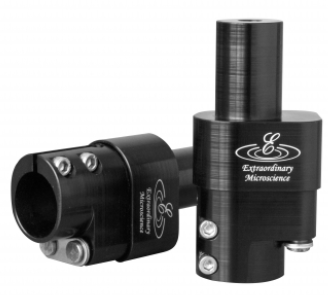 Extraordinary Microscience (EOM)
Tel.: 886-3-543-0915
Homepage: www.eom.com.tw
Email: sales@eom.com.tw
EASY DIY Gripfast – Bicycle stem shock absorber
Designed for bicycles with threadless stems of 1 1/8″ (28.6mm) in diameter.
Features: Accredited to EU's regulations; dramatically improves shock absorption by 63% and protects riders' wrists and alleviates numbness
Special offer:
MSRP NT$ 3,200; now available at NT$ 1,688 + 100 (for shipping)
This special offer is only available to subscribers of the Epoch Times in Taiwan (valid before August 8th)
Read the original report in Chinese here.