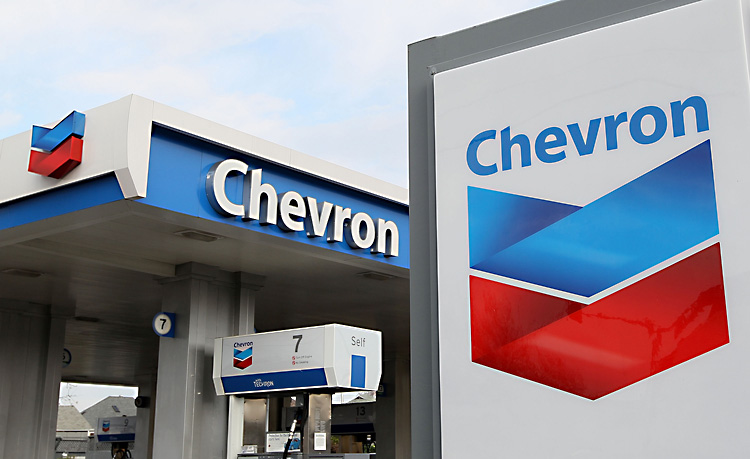 The Chevron Corp. stock price has moved up slowly through the years, not spiking with an all-time high or dropping to an all-time low.
Investment analysts suggest that the Chevron stock price is fairly valued and should not move beyond a $124 stock price per share over the coming months. This would be approximately a 17 percent increase from the $108.41 per share stock value on Feb. 21. The stock value of $108.41 per share, having moved up 1.64 percent from the previous stock closing, is a good indication of the present value of the company and is exactly where the market has valued it.
The stock price "also suggests that the stock has limited upside and should be avoided at its current stock price," suggests a Feb. 21 stock analysis on the Seeking Alpha website.
Chevron's historical stock price per share started at $52.25 on Jan. 2, 1970. Over the years, the stock price per share ebbed and flowed back and forth, always below the $100 mark. Finally, on Nov. 30, 2011, the stock price per share moved above the $100 mark, reaching $102.82. The stock price has stayed above the $100 mark per share with the exception of Dec. 15, 2011, and Dec. 19, 2011, when the price per share was $99.67 and $99.72 respectively.
"There is no doubt about it that Chevron is one of the most stable companies in the stock market and deserves its valuation, but if you are looking for upside, Chevron is one to avoid. The stock does pay a nice 3% dividend yield," according to the Seeking Alpha article.
Facing Strong Competition
"Chevron Inc. (Chevron) ranks fourth [in terms of total assets] amongst the six supermajor oil companies behind Exxon, Royal Dutch Shell, and BP," according to the Better Trades website.
Chevron produces 2.76 million barrels of oil a day and is considered the second largest oil company in the United States, according to Morningstar Inc., a stock market analysis firm.
When compared to Chevron's competitors, this company has done better when it comes to price per share. Its competitors, along with their Feb. 21 stock prices, are: Exxon Mobil Corp. ($86.57 per share), Royal Dutch Shell PLC ($72.90 per share), British Petroleum PLC (BP) ($47.16 per share), ConocoPhillips Co. ($73.83 per share), Total S.A. ($55.24 per share), and Sunoco Inc. ($39.66 per share).
"The mean forward P/E [price/earnings ratio] of Chevron's competitors is 8.3 which suggests that Chevron is fairly valued relative to its publically [sic] traded competitors," according to the Seeking Alpha article.
Chevron's trailing price to earnings ratio, derived when calculating the stock price at a given point in time and dividing it by the most recent 12 month trailing earnings, was 7.94 during the month of February.
Trailing earnings are the most recent 12 months of earnings. They are called trailing because the ratio changes monthly after the latest month's earnings are added into the calculation and the most distant month removed.
Chevron's trailing P/E ratio "is midway between the trailing price to earnings ratios of Exxon (10.17) and BP (5.91). BP, of course, has the Gulf of Mexico problems still hanging over it," according to a Feb. 22 article on the Seeking Alpha website.
Problems on the Horizon
"Like its fellow supermajor integrated peers, Chevron is finding it increasingly difficult to expand production and add reserves in a world with a shrinking investable resource base," according to a short paragraph about Chevron on the Morningstar website.
Morningstar suggested that governments and government-owned oil companies control the largest oil resources. Their interest is in achieving the highest possible earnings for exploration, development, and extraction on their land. For this reason, they will try to develop expertise in their respective countries to achieve the greatest value possible.
"While this trend can create an opportunity for firms that can offer oil and gas development expertise, it also forces them to greater lengths to acquire reserves. In Chevron's case, that means focusing on deepwater exploration," Morningstar said.
Chevron's Legal Hassles
"In the last three years … Chevron was hit with the $18 billion judgment, the largest ever for an environmental case; the judgment was confirmed by a three-judge panel; multiple courts sanctioned the company for its unethical litigation tactics; and a U.S. appellate court in New York prevented Chevron from seeking a worldwide injunction to block enforcement of the judgment," according to a PR Newswire news release on Jan. 16.
Chevron has hired the U.S. Gibson Dunn & Crutcher law firm, besides 34 other outside law firms, paying Dunn & Crutcher $250 million in 2010 and 2011 for the approximately 60 lawyers it has defending them against the $18 billion judgment due to the rain forest environmental disaster.
"Chevron also has used six public relations firms to push talking points denying the company caused any environmental damage in Ecuador, even though the judgment is undergirded by extensive scientific evidence and the allegations have been confirmed by numerous independent news accounts," according to the PR Newswire release.
The case is a long-standing class-action lawsuit. The actual environmental destruction occurred during the 26 years Texaco (The Texas Company), an independent company, operated as a member of a consortium that developed Ecuador's Lago Agrio oil field. Texaco merged with Chevron in 2001, and thus Chevron has become legally responsible for Texaco's past wrongdoings.
Texaco "caused the largest oil-related environmental catastrophe in the world. Overwhelming scientific evidence gathered at trial, much of it by Chevron's own scientists, demonstrates that the region's soil and water are contaminated with toxic chemicals," according to the Historic Trial entry on the ChevronToxico website.
Texaco built and operated an oil production site in Lago Agrio between 1964 and 1990. The company was and still is accused of cutting corners when it came to getting rid of toxic substances. "Texaco's completely inadequate waste management practices [were] implemented to save money and with the expectation that the company would never be taken to task for them," according to the ChevronToxico website.
In its 2011 annual report, Chevron presents its side of the environmental accusation, a case that dates back to May 2003. Chevron states that it had completed a full environmental clean up and received certification to that effect.
In closing, Chevron admits that given the continued legal filings, it has no way of assessing any possible future losses.
"The company also believes the [$18 billion] judgment is the product of fraud, and contrary to the legitimate scientific evidence. Chevron cannot predict the timing or ultimate outcome of the appeals process in Ecuador. Chevron will continue a vigorous defense of any imposition of liability," said Chevron in its 2011 annual report filed with the U.S. Securities and Exchange Commission.